In Focus: An Inside Look at the Harvard Univeristy YouTube Channel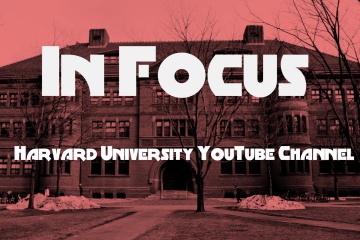 How Harvard uses online video content to give you a backstage pass to University life
Welcome to the very first edition of In Focus, a regular series of posts looking at branded YouTube channels from Australia and around the world.
These features won't focus too heavily on the technical set up of each channel, but rather the content strategy that is driving the output of the channel.
You won't see many 'viral' videos here either, instead you'll see how YouTube can be used to build an audience by consistently delivering quality online video content.
This doesn't mean YouTube channels can't be used as campaign hubs too, but what we'll attempt to show you is that online video content can be used in a variety of ways to add value to the people who matter to you.
In Focus: An Inside Look at the Harvard University YouTube Channel
Harvard University has a number of audiences, but the main ones are former students, current students and prospective students.
It's global alumni audience alone is in excess of 370,000 people.
The organisation is rich in tradition and prestige, and the students who study there are the best advocates they have, so it makes sense to highlight life at Harvard via YouTube.
Some of the best professors in the world call Harvard home too.
The forms of content being shared include:
Short lecture clips
Student stories
Long-form public addresses be specific faculties
Science experiments
Guest lectures
It really does give you an insight into life at Harvard and why it has the reputation it does.
Interestingly, Harvard also has a SoundCloud account which shares audio content about life and learning on campus and around the world.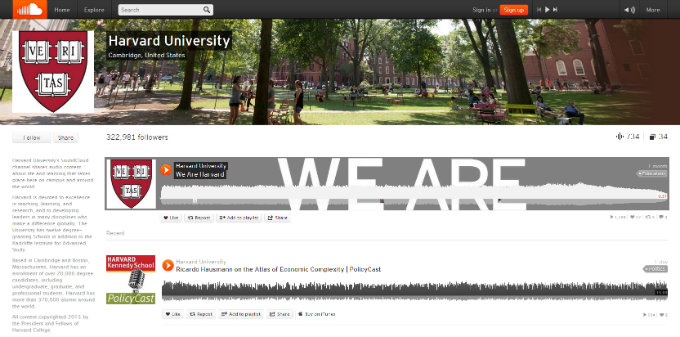 From a technical perspective, the YouTube 'library' features are being used well to highlight key areas (science, politics, athletics) and a number of playlists have also been curated for easier navigation.
If you look closely at the video content, you'll notice most of it isn't overly produced or staged, it is primarily talking heads or tours around the campus using a handheld camera.
The best way to describe the channel, is a video diary of the University.
What can be learnt from the Harvard University YouTube channel
Every organisation around the world has unique set of assets.
In the case of Harvard, the most powerful assets are professors, students and special guests, and all feature heavily.
This is a classic example of taking what is happening within an organisation, capturing it, and making it public to tell the story in a more vivid manner.
The things we can learn from the Harvard YouTube channel include:
Content is everywhere, and finding economical ways to capture it can be used to market your orgainisation
YouTube provides Harvard with direct access to relevant audiences and reduces the reliance on traditional paid media, especially television
Interesting people make for the most interesting content, and if you have these people within your organisation, showcase them
Harvard have decided to disable comments on each video which can discourage engagement but this may be due to the historically toxic nature of  some portions of the YouTube community (this has improved in recent times with the introduction of profanity filters and other features)
It doesn't appear that the video descriptions have been optimised to their full extent which may impact upon organic discovery (this can often impact on the performance of video campaigns and limits the potential reach)
The numbers that matter
While some of the videos featured on the Harvard YouTube channel have been viewed in excess of one million times, most of them have registered less than 1,000 views.
The primary reason is that the content that is published is designed for niche audiences (on the most part).
Videos relating to athletics, science and politics are only going to appeal to people with an interest in those areas.
The number that should be noted is the subscriber base.
More than 115,000 people have subscribed to the Harvard University YouTube channel, ranking it among the top 200 most subscribed channels in the world.
This is what it's really about, investing in building a big subscriber base now to reduce associated costs later.
Good, bad, ugly?
Assessing the quality of a YouTube channel is a very subjective thing, and unless you specifically know the purpose of the channel and the online video content produced for it, you probably shouldn't 'give it a score'.
Benchmarking performance is a difficult thing too as resources, budgets and other internal factors often determine output.
But, using YouTube as the University's online video diary is a great way of showcasing Harvard life, and has to be commended.
Online video content examples from Harvard
NBA star Jeremy Lin reflects on his time at Harvard
Former Australia Prime Minister Kevin Rudd takes part in a panel at the Harvard Institute of Politics
We'll be back with another edition of In Focus soon.