Social Media Trends 2014 (Part One): Content Promotion Budgets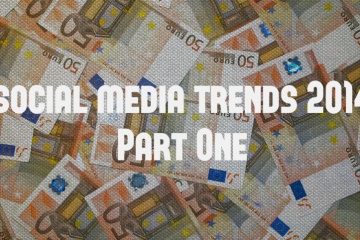 View the full Social Media Trends 2014 SlideShare summary here.
Social Media Trends 2014 (Part One): Content Promotion Budgets
Welcome to part one of our special Social Media Trends 2014 series.
Over the next two weeks we'll countdown our 14 predictions for 2014 before pulling them all together in a summary SlideShare pack (as per the 2013 edition).
We'll be covering a number of key themes in the Social Media Trends 2014 series including the ever-evolving state of search engine optimisation, how marketing budgets will be used and the rise of niche interest platforms.
Our motivation for this series of posts is to share as much insight as we can paint a picture of the landscape brands and businesses will be faced with in 2014.
In part one, we're looking at a much-needed shift in marketing budgets which has been delayed by most, but can't be put off much longer.
Let's jump in!
Trend One: Content Promotion Takes a Bigger Chunk of Media Spend
Media buying has always been the king of the marketing castle.
It has allowed brands and business to craft a very specific message and put it in front of a 'bullseye' audience on TV, on the radio or in a newspaper.
The problem is our media consumption habits have changed and mass media is becoming less relevant while niche media is becoming more  accessible.
For example, you can now stream a radio station from the other side of the world via your mobile phone instead of being forced to listen to a set amount of local options. We have limitless choice.
Niche media accessibility isn't 'that' new, but the technological and cost barriers are lower than they've ever been.
So, how do you get your 'message' in front of the right people?
You start by reconsidering the way you use your marketing budgets, shifting a portion to the production and promotion of content that suits the social web.
The argument is that if you focus on developing content that people want and publish it on channels you own, you'll begin to connect directly with people who have a genuine interest your areas of knowledge.
They will actually seek out your content if it ADDS VALUE.
This is opposed to 'yelling' at them in the form of a traditional one-way ad, placing it on a 3rd party media channel in the form of a banner and hoping for a glance on the way to the content people really want to consume.
People do not seek out DISRUPTION.
In order to reach a tipping point with your owned channel activity, you will need to invest a portion of that budget in promoting your content to attract subscribers, followers and advocates over time (eliminating your total reliance on paid media over time).
This subscriber base will then share this content and achieve better cut-through because people are much more likely to engage with something that has been recommended from a person in their network.
What is the current state of play?
While many brands and businesses have taken to social advertising, the focus has primarily been on promoting channel profiles (e.g. Facebook page 'likes') as opposed to producing and promoting useful and entertaining content that adds value. You need to do both.
We've seen some brands adopt the 'value adding approach' with great success including Virgin Mobile who partnered with Buzzfeed to develop content that suited the behaviour of their target audience.
This content doesn't push a commercial message, instead it consistently gives people an experience that makes them feel good, and in turn, feel warmer towards the brand.
It is very similar to the traditional sponsorship model where a brand sponsors a sporting team to increase visibility and goodwill among the fans that support that team.
Will we see significant adoption of this approach in 2014?
We will definitely see an increase in genuine content promotion in 2014, but traditional media buying featuring one-way ads will still be the most relied upon marketing tactic.
What is likely to happen is that more and more media buyers (who have the ears of senior management) will begin offering content solutions to compliment traditional activity to maintain budget control (which is part of a bigger convergence trend).
For example, many media buying agencies are forming relationships with blogger talent agencies to provide sponsored content solutions.
But, these are often one-off partnerships, as opposed to long-term arrangements which can cultivate an on-going relationship.
By no means are we saying that throwing all your eggs in the' owned channel and content basket' is the right move, but if you take a portion of your media buying budget, you are likely to get more bang for your buck over time if you invest in media channels and content you own.
It is the old renting versus buying argument. Media buying and traditional PR involve 'renting' space on someone else's property where as content marketing involves investing in properties you own which will increase in value over time.
The next installment in the Social Media Trends 2014 series will look at the rise of interest-based networks at the (potential) expense of mass social networks.
About Kamber
Kamber is a specialist content marketing and social media agency based in Australia.
We help brands and businesses plan, produce, publish and promote digital content that people crave.