Social Media Trends 2014 (Part 14): The one constant will continue to be…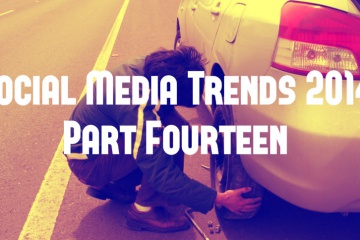 View the full Social Media Trends 2014 SlideShare summary here.
…change, faster and faster change.
Welcome to the final instalment of our 14-part Social Media Trends 2014 series.
We're actually going to follow up with one more post summarising all 14 projected trends in one, easy-to-digest, SlideShare presentation.
Check back for that post soon.
Trend 14: The one constant will continue to be…change, faster and faster change.
This last trend is one that should probably be present in any 2014 trends preview given the nature the constantly changing digital marketing space.
So is 'change' a trend?
It is, but more specifically it is the frequency and increasing speed of change which is the thing to look out for next year.
Change comes from so many directions too.
Technological changes.
Platform changes.
Behaviour changes.
Let's examine this prediction in a bit more detail and why staying on top of all this action will be one of the keys to digital marketing success in 2014.
The recent history of social media changes
Last year, as part of my 2013 prediction series, I 'guaranteed' that Facebook would undergo a huge functionality change in 2013.
It made a lot of changes in 2013, but the most significant one was the new look, feel and experience associated with the news feed.
This wasn't a ground-breaking prediction as Facebook makes major changes every year, and smaller ones every second week.
But it is the increased regularity of these changes which is the thing to take note of.
Facebook is not given enough credit for adapting to the feedback of its users which is what has continued to make it relevant at a time when a new social media toy surfaces every week.
You can take a look at the 11 most significant changes made by Facebook in 2013 here.
In part 11 of this Social Media Trends 2014 series we looked at the major changes made by Google that has started to transform the search engine experience.
Twitter continues to tweak its user experience.
Google+ continues to be integrated into the broader Google product suite.
And, YouTube has instituted just as many changes as any of the other major platforms, including the evolution of YouTube channels to become more like Facebook pages.
Can this rate and frequency of social media changes rapidly increase in 2014?
It can and it will.
What can you expect to see in 2014
Overall, expect each of the major social media platforms to evolve at a faster pace next year, including a (another) probable major overhaul of Facebook.
The rising platforms and apps like SnapChat began making changes towards the end of 2013, but expect even more in 2014.
Instagram introduced 15-second videos in 2013 which was a response (in part) to the arrival and popularity of Vine.
And, Instagram, is likely to serve up the most significant and frequent changes in 2014.
Why?
Apart from the introduction of video, and the recent addition of sponsored posts, the Instagram product is still the same as it was when it launched a few years back.
There is so much room for growth and adjustments for Instagram next year.
What can you do about it?
The most successful social media and content marketing programs are ones that are channel agnostic.
While some tweaking is always required to bring your content strategy to life, getting the foundations right will be the key to success.
But in order to tweak the content you produce to get the best results across the key social media channels, you need people within your organisation that are passionate about the space.
You need these people spend at least 30 minutes a day reading industry blogs and monitoring active platforms to be across these constant social media changes.
This is one of the reasons digital agencies exist, they provide advice and solutions that suit the rapidly evolving space, ensuring that on-going activity and campaigns can work.
With the rate of change expected to escalate substantially in 2014, it may well be the most challenging trend to adjust to next year and beyond.
The summary presentation
Swing by tomorrow to view and download the summary SlideShare presentation which will capture all 14 trends that are set to shape social media marketing, content marketing and digital marketing in 2014.