Tweetworthiness: How and why the Ellen Oscars 'Selfie' flew on Twitter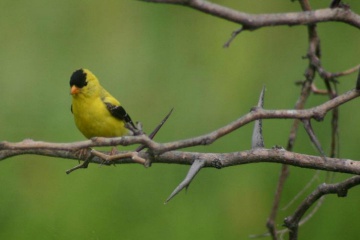 Tweetworthiness: How and why the Ellen Oscars 'Selfie' flew on Twitter
At last count, the now ubiquitous Ellen DeGeneres Oscars 'selfie' (sponsored by Samsung) had been retweeted 2.4 million times (in less than 24 hours) breaking all kinds of records in the process. And yes, that obliterated the old record held by Barack Obama following his election to a second term as President.
Instead of adding to the acres of coverage that provided context around 'what' happened, we thought we'd look more closely at the 'how and why' it happened the way it did.
After reading that sentence you might be asking yourself why on earth we'd attempt to answer something that appears blatantly obvious.
The power of celebrity. The power of multiple celebrities. The power of an event like the Oscars. Home run.
But why did this tweet and image explode so much more loudly than anything else we've ever seen before?
And, is there anything brands and businesses can learn from it (as hard as it may be to believe on the surface)?
Here are some answers.
The notion of newsworthiness (and tweetworthiness)
Long before the advent of social media, brands like Samsung attempted to reach audiences through traditional media (they still do, let's not lose perspective here).
One of the ways they did this was via the creation of carefully orchestrated news angles, designed to capture the attention of mainstream media outlets, reaching mass audiences and generating high levels of 'talkability'.
Making 'news', proactive or reactive, is the result of ticking a set of boxes, otherwise known as the newsworthiness criteria.
These criteria includes relevance, timeliness, conflict, topicality, proximity, prominence, topicality, consequence and rarity.
Or, put in an all encapsulating way, does it pass the "so what?" test.
If you look at the Ellen Oscars selfie purely from a traditional media perspective, you'll see that it featured every single ingredient.
The topicality of the 'art of the selfie'
The prominence of the people involved
The rarity of seeing those people in such a setting
The on-going conflict between traditional and social media for 'share of attention'
And on, and on, and on.
Translating into the social sphere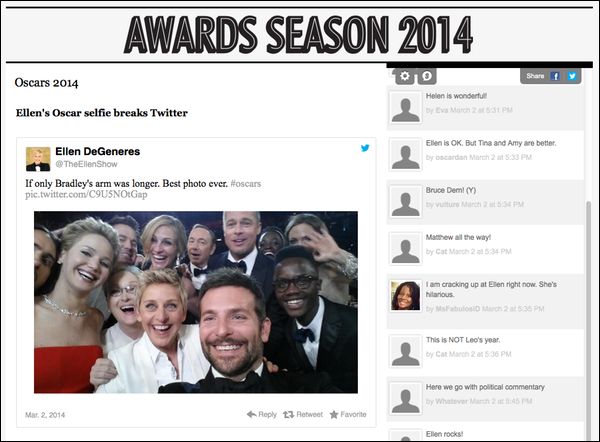 Fast forward to 2014 where individuals and brands don't need the traditional media as much as they used to (to a degree).
Ellen (and Samsung), with an audience of 27.3 million on Twitter, can talk directly to them.
Not everything she says (or tweets) is going to have the same levels of impact, but if you get the equation right, you're always in with a chance.
The equation is (relatively) simple: audience plus genuinely compelling content equals buzz, reach and impact.
But audience is the key factor here and Samsung 'borrowed' this audience at the Oscars.
Without an audience, and without direct access to people, the Oscars selfie doesn't happen.
Can brands and businesses learn anything from this event?
They've learnt most of this already.
If you are able consistently publish content that adds value, you're able to increase your 'brand-to-person' audience over time.
As you build this audience (or community), you give yourself a better chance of organically increasing reach and visibility, thus decreasing reliance on traditional media.
Unfortunately, the natural inclination is to sprint to that place. But, it takes time.
A practical way brands and businesses can use this event and the notion of newsworthiness is by using the criteria as a checklist during the content planning process.
This (very crude) image below brings this to life:
Essentially, this can help determine if just more noise is being added or something genuinely compelling is being published into the social sphere.
This is an approach we use regularly and helps us create content plans that go beyond simply ticking a box.
Images courtesy of Twitter and MarketingLand.com.