Platform Five: This week's most important social media changes and updates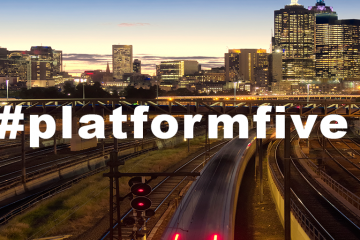 What has changed in the last seven days? What does it mean?
Welcome to a new edition of Platform Five, our weekly recap of the social media changes and updates from the last seven days.
We produce and publish these posts to recap this big changes happening across the digital media landscape and to provide some analysis as to the impact they may potentially have on brands and businesses going forward.
This week has some changes and upgrades from many of the bigger platforms, including Facebook, Instagram and Snapchat. Twitter has had a particular big seven days with a number of new features being tested which are squarely aimed at business use.
This week's five most important social media changes and updates
Snapchat has been testing a new feature that takes inspiration from Instagram and Foursquare.  It provides users with filters that can only be unlocked once you're in the vicinity of a venue.
This change potentially gives brands and businesses the opportunity to have branding featured on user content which is not only a novel concept, but may really open up the platform to more commercially-based activity. Keep your eyes on this one.
In a step towards potentially replacing the 'quote with tweet option', 're-tweet with comment' will allow users to add some commentary, whilst linking to the original tweet.
Twitter has not confirmed if this is a permanent fixture, but if formally introduced it may help brands increase rapport with users by adding to the content they are publishing and vice versa.
Another feature being tested by Twitter in 2014 is the 'buy now' button on mobile. The button links to an app called 'Fancy' and whilst Twitter and Fancy themselves have not yet provided comment on this feature, they have speculated, "it's likely that in-tweet shopping is here, or coming soon."
The 'buy now' button is another way that Twitter is looking to stand tall against Pinterest and Facebook, who are already seamlessly integrating the social media and ecommerce experience. This function continues Twitter's efforts to close the gap between seeing the product on your device and making a purchase.
Admittedly this isn't the easiest work around, but by opening your phone 'Settings', clicking through to 'Accessibility', you can opt to swipe 'zoom'. This action allows you to use your three fingers to zoom into images. Remember to keep all three fingers together at the start of zooming for this feature to work – in the same way that you would a Mac track pad. While this isn't a feature that will directly change content marketing, it does mean users can take a closer look of the image.
Facebook has made a number of changes to its advertising proposition of late, including an increase in the size of right-hand column ads.
This week, it acquired Live Rail, whose credits include both the ABC & Major League Baseball. Neither party has disclosed any further information about their relationship, however we do know that Facebook video ads are coming. With auto-play videos already prevalent in newsfeeds, we might see this applied to video ads too.
While more intrusive ads may result in a greater rate of attrition for Facebook, it is another way brands acorss a variety of sectors can reach audiences with a more dynamic for of content.
That's everything for this week's installment, but make sure you check in again next week for another edition of Platform Five.
Original image via Thinkstock.com.