The 33 most important social media changes of 2015 thus far (part one)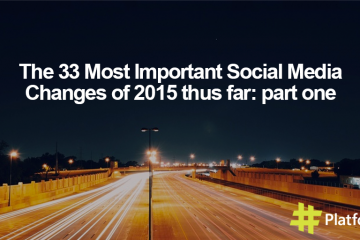 The 33 biggest social media platform changes of the year to date
The rapid rate of change in the digital space constantly keeps marketers on their toes. Everything from the smallest platform change, to a dramatic new algorithm can influence the way a campaign should be delivered, the way a video should be syndicated, and the way advertising budget should be optimised.
In essence, these changes impact all digital content production and it is imperative that brands are aware of these changes. Identifying them allows brands to adapt to the fast paced digital environment, as well as pre-empt what may be coming.
Building upon #PlatformFive in which we track the top five social media changes of the week, we have collated the 33 most influential social media changes across Facebook, Twitter, Instagram, LinkedIn, Snapchat, YouTube and more as a two part series.
Across all platforms (taking advertising out of the picture altogether as this will be featured in part two), our predicted forecast of video, video, with a chance of more video at the beginning of the year, was confirmed. We identified a strong focus on the increased value of video content.
Facebook made a number of changes that saw video flourish, particularly through advertising, but also through solidifying their allegiance to Meerkat and testing floating videos. Other prominent Facebook changes included launching the test phase of Instant Articles which saw partnerships with a number of leading publications, and will give users access to more content.
Twitter also made a number of updates to greater support video content. In January, direct video capturing and editing was updated, Periscope was officially purchased in March, and videos and GIFs became autoplayed in June. Uncharacteristically, Twitter also made updates that shifted the platform from notoriously public conversations, to private.
Instagram made their video updates early in the year by auto-looping videos in February. May saw rumours of the platform moving to support 1080 x 1080 pixel images, and the 10% of text on Instagram that was made of emojis resulted in emojis becoming hashtag-able. The most significant move though came in July, when the app migrated to desktop, including a web search.
Let's take a more granular look.
Facebook changes
1. News Feed Algorithm – spam changes, January
In January, Facebook stopped tolerating fake stories, News Feed spam (click to win), or false news stories in the News Feed. The algorithm shift added the option for users to report false news stories to Facebook. In March, Facebook stopped counting Likes from users with deactivated accounts or those deceased, giving businesses a more accurate picture of their audience. This resulted in a dip in their number of Page Likes across all Facebook pages, as well as an overall clean-up of the spam-like content in a users' News Feed.
2. Facebook@Work, January
January saw Facebook launch Facebook@Work on iOS and later on Android. The new product allowed businesses to create their own social network to be used amongst their employees. It was a move that saw Facebook directly compete with Microsoft's Yammer, Slack, Convo, as well as LinkedIn. It is unknown how many users are currently on Facebook@Work.
3. Topic Data, March
Facebook took a giant step towards helping advertisers understand their audience by launching Topic Data in the US and UK with partners DataShift in March. Although Topic Data was already somewhat available, "the sample size was often too small to be significant and determining demographics was nearly impossible." Topic Data is combined to disguise personal Facebook identities. Since March, Synthesio have joined the partnership to provide businesses insights into metrics around sentiment, engagement, and content performance.
4. Facebook Messenger, March
The first move Facebook made this year signifying their investment in Messenger was rolling out a free money transfer feature in the Messenger app. Users in the US were given the ability to attach a debit card to their Facebook account to pass money through messages without leaving the app. This feature was updated in May (update 4.0), automatically hyperlinking dollar amounts typed in chat. Payments are confirmed by tapping the $$ within messenger chat. Another move in April, possibly the most significant, saw Facebook Messenger become available on a standalone web browser as well as being accessible via Facebook. Complete with desktop notifications, this move segregated the Facebook chat experience, sheltering users from other Facebook distractions. In May, Facebook rolled out their free video calling feature across both the app and web versions. This allowed video calls to be made even between iOS and Android devices. In June, the first Facebook Messenger game – Doodle Draw – arrived. these changes indicated Messenger was a priority for Facebook this year.
5. News Feed Algorithm – relevant content, April
In April, Facebook altered their News Feed algorithm to include more content from Facebook friends rather than pages. The change made it less likely users will see friend activity on other brand's posts, forcing brands to reassess their ad spend to receive cut-through. In June, there were similar News Feed algorithm changes, that took into account the time people spent digesting content in addition to tangible actions such as likes, comments and shares. Facebook acknowledged the amount of time spent on a story is a significant measure of what information a user chooses to intake, regardless of whether they do not like, share, or comment on the story.
6. Floating videos, May
Facebook begun testing a floating video feature in May which will allow video to be popped out from the News Feed so users can continue watching as they scroll. Users can click the square at the bottom right of a video, where it will continue to play and can be dragged anywhere on a screen. This feature is currently still in testing mode.
7. Instant Articles, May
In May, Facebook began hosting content from Buzzfeed, The New York Times, National Geographic and a range of other partners via Instant Articles, converting their stories into an app-friendly format that loads instantly. Facebook are offering publishers 100 per cent revenue on ads sold via Facebook-hosted pages in exchange for time spent on their platform. Instant Articles are currently only available to a small test audience of 5 per cent of iOS mobile users in the US.
8. Meerkat, May
In May, Meerkat was supported by Facebook with users no longer needing a Twitter account to access the app. In a possible response to Twitter cutting Meerkat from its social graph which automatically connects friends, this update allowed access to Meerkat with a Facebook log-in. It also allowed publishing video directly to Facebook and address book scanning. In June, Meerkat rolled out several additional Facebook-friendly updates, signifying its official allegiance to Facebook.
Twitter changes
1. While you were away, January
Twitter introduced While you were away, their missed tweets feature in January on a users' home timelines, on iOS. The feature highlights popular tweets users may have missed from accounts they follow whilst not actively on Twitter. It aimed not to compromise the real time nature of the twitter feed. The feature was extended to Android users in February and still exists today.
2. Group messages and real-time video, January
In January, Twitter introduced group messages, transitioning public conversations to private. Group messages allow users to chat privately with up to 20 people, still limited to 140 characters including images. In the same update, Twitter also announced new video tweaks which permitted capturing, editing, and sharing directly from the Twitter app. The inline editing experience allowed users to tweet up to 30 seconds of video, the first move towards migrating to a more video-friendly platform.
3. Instant Timelines and new Home Page, February
Twitter began testing Instant Timeline on a subset of Android users in February. Instant Timelines pre-scanned contacts and populated twitter feeds with tweets Twitter deemed of interest to them based on accounts they follow. Users do not need to be following these accounts for them to appear in the Instant Timeline. It is believed the public testing phase is still underway. In April, Twitter introduced a revamped home page to attract non-Twitter and logged-out Twitter users. The new home page included a number of clickable trending topics such as Politics and Pop Artists that take users to a timeline of relevant tweets without logging in. The feature is available currently in the US and will roll out elsewhere soon.
4. Curator, February
New product Curator for news outlets was unveiled in February. Curator pulled together embedded tweets and vines to help track which topics are popular and where, for broadcasters and publishers in real-time. "News organizations can also use a search function to sift through tweets, vines and data, with filters so granular, they can narrow things down by location, word count, the feelings expressed in the tweet, and even whether tweets were sent from an iPhone or Android device," Twitter explained. The tool saves considerable time sorting through relevant and interesting information on Twitter.
5. Embedded videos and Quote tweets, March
Twitter video became embeddable directly to websites with a new embedded video widget in March. By clicking the '…' button, Twitter generates a piece of HTML code to copy and paste onto a website. Twitter extended the embedding in April, allowing the Quote Tweet function to embed the entire post being quoted, including images. This made it easier to add commentary to a RT.
6. Periscope, March
Twitter purchased live stream video app Periscope in March, further aligning the platform to video content. In March, Periscope was not yet launched to the public and was in BETA testing stages. By the end of March, Periscope was launched to the public, and introduced to Android in May. Its launch put a significant strain on Meerkat who (then) heavily relied on Twitter for distribution. There have been a number of Twitter friendly Periscope updates since, solidifying the partnership. This includes the live broadcast of Twitter earnings via Periscope.
7. Direct Messaging, April
The option to receive direct messaging from any user other than those who reciprocally follow one another was rolled out in April. The change included a new Direct Message button on Android and iOS which users opt into. The change was especially helpful for brands using Twitter to manage customer service enquiries. In mid June, Twitter enhanced this feature removing the 140 character limit for direct messages to a 10k character limit.
8. Video, GIFS and Vines auto-play, June
Twitter switched to autoplaying videos, GIFs and Vines by default in June. The autoplay feature allowed videos to play automatically without volume when a user scrolls past it. Similar to Facebook and Instagram, a video can be tapped to display in a larger format. In addition, Twitter will only charge advertisers for promoted video views when a video is in 100 per cent full screen view and has been watched for at least three seconds. The change has already occurred for web users and iOS, with Android soon to follow.
Instagram Changes
1. Videos auto-loop, February
In February, Instagram began automatically looping videos without users having to click play each time they want to watch. The function gave brands the opportunity to get creative and receive as many video views as possible.
2. Post notifications, April
An April Instagram update on Android and iOS introduced post notifications, allowing users to receive push notifications each time their favourite accounts post. The feature was a great opportunity for brands to keep their true advocates updated. To receive post notifications when a favourite account posts, select the triple-dot button in the upper-right corner of the accounts profile and tap 'Turn on Post Notifications.'
3. Emoji hashtags, May
An iOS and Android app update in May added emoji hashtags, as well as three new filters to Instagram. Users were able to add emojis to hashtags and they will be searchable. Previously emojis were not supported within hashtags. Instagram reported that 10% of text on Instagram contained emojis. The update forced brands to get creative with their emoji-game.
4. @Music, May
Instagram launched their first official community, @Music, in May, dedicated to showcasing known and unknown artists around the world. @Music was a result of the strong music influence across the platform, with 25 per cent of Instagram accounts run by musicians. The account is currently run by Instagram Music Editor Alex Suskind and features six posts per week.
5. Bigger images, May
Instagram announced in May they will soon support images that are 1,080 by 1,080 pixels, an upgrade from the current 640 x 640 pixels. The app gradually begun rolling out support for larger sized images on iOS and Android, meaning higher quality images across the platform will soon be supported. A roll out-date is not known, but believed to be very near.
6. Searchable web images, July
Instagram added a search tool on their web version of the platform where users can browse accounts, hashtags, and locations on a desktop. The update moves Instagram closer to being fully integrated to web instead of being a stand-alone app.
LinkedIn changes
1. Careerify, March
LinkedIn purchased Careerify in March, further expanding its data recruitment business. Careerify develops referral software for employers, by tapping into the social networks of a company's employees to identify friends who would best fit an upcoming job description.
2. Lynda.com, April
LinkedIn paid $1.5B for online training company Lynda.com in April. The partnership, paid for by cash and stock, aims to help professionals on the platform by allowing access to the subscribed site which houses a library of technical tutorials. The e-learning courses became available to users in July.
3. Elevate, April
Linkedin announced the launch of content sharing app Elevate, later this year. The app aims to encourage employees to share content from their companies they work for as employees are "responsible for about 20% of the overall [LinkedIn] engagement," according to LinkedIn product manager Will Sun. Elevate will include analytics tools to highlight how sharing content creates website and sales leads, as well as an increase in hires. Content will be shareable on Twitter and LinkedIn. Elevate is currently available via invitation only, but will be available on iOS, Android, and desktop soon.
Snapchat, YouTube and more changes
1. Snapchat Discover, January
Snapchat launched Discover in January introducing 12 media outlets allowing CNN, ESPN & National Geographic to post bite-sized news content within the app. "We count on editors and artists," Snapchat blogged, "not clicks and shares, to determine what's important." Since the launch in January, media outlets Yahoo and Warner Bros have opted out, and IHeartMedia Inc have opted in.
2. New Tumblr interface, January
In January, Tumblr rolled out a new set of tools for creating posts. The new features included a media pop-up tool, where images and video can be placed anywhere, highlight text editor tools, and a selfie-taking icon, making Tumblr a more dynamic and time-efficient solution for brands. In June, Tumblr expanded their search capabilities to allow for specific GIF search within the platform. Users click the + when creating a post and are able to select from a plethora of GIFs. Users who first posted the GIF will be notified when another user selects it, a clever way to keep users on the platform.
3. Pinterest search features, January – June
Pinterest enhanced their search functionality over the duration of 2015, begining with Guided Search in January. Pinterest acknowledged their growing number of male users and included gender search filters. In June, they added enhanced suggestions, trending searches, and verified accounts. When a user types in the search box, common suggestions appear. Search filters are also available when a user taps or clicks into results. A user can now switch between boards, users (who have a red tick next to their name if they are verified accounts), or pins.
4. YouTube launched YouTube Kids, February
Free iOS and android app, YouTube Kids, launched in mid-February in the US. The platform filtered kid friendly content and allowed for parental controls, including a screen timer and pre-selected search settings. "This is the first step toward reimagining YouTube for families," YouTube explained.
5. Google + splits into Photos and Streams, March
In March, it was announced Photos and Streams will no longer be features of Google+, breaking off into separate Photos and Streams. The move suggested Google was moving away from the pure Plus branding, possibly abandoning the platform completely. In June, Google removed a direct link to Google+ from its homepage. In order to access a Google+ account, users now need to click on the apps icon rather than clicking their previously hyperlinked name on the top right of the home screen. As well as this, Google increased users' privacy controls by rolling all privacy settings into a new website – My Account.
6. Reddit comment threads embeddable, March
Reddit allowed comments to be embedded on other sites making it "easy to showcase Reddit comments on your website or blog without having to take screenshots or copy [and] paste long blocks of text." The update moved the platform slightly more into the mainstream.
7. Google Helpouts discontinue, April
The lesser known version of a Google Hangout with a specific technical focus, Google Helpouts, was discontinued on April 20 due to slow growth. Users could download their Helpout history before the platform was removed.
8. Spotify adds video and podcasts, May
Spotify moved away from being a music-only platform, introducing video clips and audio shows in May. The update included a Video Capsule which offers streaming from a range of partners including ABC, Vice News, ESPN, and Comedy Central for the "times in the day you want to switch between music to catch up on the latest news, listen to your favourite podcast or simply watch something fun," Spotify explained.
So far in 2015, the power of video has triumphed. All platforms made significant and minor adjustments to encourage the use of video, whether for brand or consumer communication. Instagram and Twitter both autoplayed video at the beginning of this year, Facebook tested floating video, and Meerkat and Periscope both made a rich impact, changing the way brands can share real-time video. It seems LinkedIn are the only platform that are yet to embrace the age of video.
Were you able to adapt to the changes? What will change for the remainder of the year?
We'll continue to track all the important stuff, right here on the Kamber blog. Stay tuned for part two of this series which will look at the top changes in social media advertising of 2015 thus far.