Kamber Serves Up Wynns Virtual Wine Tasting to the World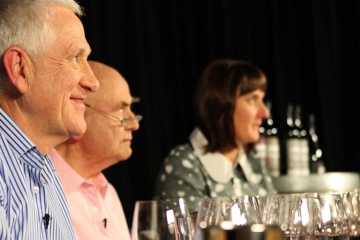 Kamber's Unconventional Thinking in Action
Last week we staged the Wynns virtual wine tasting event on behalf of our client Wynns Coonawarra Estate which got wine lovers talking all over the globe.
The Wynns Virtual Wine Tasting was a 45-minute online event for the iconic Australian wine brand that was broadcast across multiple digital channels.
It was fronted by Wynns winemaker Sue Hodder, Wynns viticulturist Allen Jenkins, and acclaimed wine critic James Halliday.
Over the course of the live broadcast, Sue, Allen and James talked through the 2015 release collection of Wynns, and helped viewers conduct their own tasting from home. Viewers were also able to submit questions to the panel in real time.
24 hours after the live broadcast, two on demand versions were made available to the public – a mini recap, and the full length tasting.
In less than 72 hours after the mini clip was published on Facebook, it had clocked up more than 35,000 views.
The full length on demand version is available in a number of locations, including the Wynns website and the Kamber Vimeo channel.
Generating buzz around the Wynns Virtual Wine Tasting event
Wine lovers, including a large number of influential ones, were very active before, during and after the event.
This was the result of a robust blogger and influencer outreach program.
Here are just a handful of examples:


Assessing the impact
More than 800 people watched the virtual tasting from places including Australia, Hong Kong, United Kingdom and United States.
And, more than 1,218,390 people have been reached via the Wynns Facebook page before, during and after the event.
The innovative Wynns digital activity is set to continue with the launch of Wynnsapedia – a crowd sourced library of fan images dating back to the 1950s.
For more information, check out the Wynnsapedia website and fan activity taking place in Instagram using the #Wynnsapedia hashtag.
If you'd like to view our formal content marketing and social media case studies, click here.