The top 8 takeaways from #MayoInOz Summit: Day One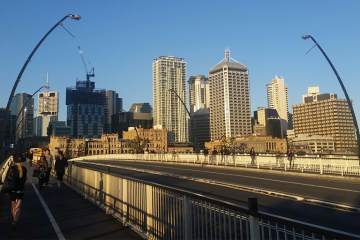 Having been the first time in a long time the Mayo Clinic have visited Down Under, it was evident the #MayoInOz Healthcare and Social Media Summit 2015 was going to bring great learning's, ideas, opinions, and discussions about the digital healthcare space.
With a vast breadth of experience in the room(s) from both the digital and healthcare realms, here are my top 8 takeaways from day one:
1. Social networking is the same as it was 150 years ago, today we just add digital
Director of the Mayo Clinic Center for Social Media, Lee Aase, begun the day's events with a run-down of the history of the Mayo Clinic and its ties to Australia. He explained that in 2015, the Mayo Clinic has received 1.3 million patient visits from 143 countries. Then Aase asked one very profound question – "why do people come to a small corn-field town in Rochester Minnesota?" The answer, simple. It all comes down to social networking. Whether 150 years ago or today, the basic principles of networking haven't changed. The technology has. Organisations should be adapting to it as professionals in the healthcare space. It's where conversations are happening and information is being exchanged. The power of social media to healthcare providers and patients alike should not be ignored.
2. Listen, listen, listen
A common theme of day one was listening. Dr Wendy Sue Swanson aka @SeattleMamaDoc spoke about how 140 characters has changed healthcare. She pointed out that yes, today is the age patients are self-diagnosing. Yes, even Google provides differential diagnosis. But this is a great thing – it's engagement. Patients have more tools and power to go online and research. "The most untapped resource in the health space, is the patient. And now they're so profoundly connected," Swanson explained. This behaviour jeopardises the concept of an expert, which leads to the importance of listening to our audience. There is no patient who won't benefit from sharing knowledge. By honing our listening skills we can better the health space.
"Our moral role as physicians is to partner with our patients on their health journey. And they're doing it online" @FarrisTimimi #MayoInOz

— Kamber (@KamberCo) September 1, 2015
"We take ideas from what patients are saying on twitter" @ClaireyHewitt #mayoinoz #blogging

— Kamber (@KamberCo) September 1, 2015
"Who's the expert now? Who's voice weighs more? Our doctors? Or the voices in our social communities?" – @SeattleMamaDoc #mayoinoz #digital — Kamber (@KamberCo) August 31, 2015
3. Don't ignore the power of video in the healthcare space
The way we consume media has changed, particularly the way young people learn about a subject matter. These young people are the future, and are setting the tone for digital behaviour. Often healthcare videos can be dry using stagnant talking heads and medical jargon. This may be rich in information, but it's not always the most effective way to communicate. Director of The GroundSwell Project, Kerrie Noonan, shared the 2013 winner of the FilmLife project, demonstrating creative ways for engaging video content aimed at a young audience. Be creative in this space to speak volumes to your audience.
"Video is content that educates, connects, fundraises, and tells a shareable story" @KezNoo on the importance of video #mayoinoz — Kamber (@KamberCo) September 1, 2015
The pros and cons of user-generated and co-created #video content via @KezNoo #mayoinoz pic.twitter.com/scFNImFOK9 — Kamber (@KamberCo) September 1, 2015
4. Curating content is powerful
The importance of curating content was touched upon by a number of speakers on day one. Dr Wendy Sue Swanson pointed out that "the great art of curation is our [healthcare professionals] job. We need to lend expertise and advice and amplify our experts." It's okay to share links and direct traffic elsewhere if it truly is the most accurate and helpful information. By learning from what we listen to online, we can educate by curating information and resources. This is especially important for video. Create relationships with local video producers and communities, and you will double your audience by having them share content with their communities as well as yours.
Great education is curating information and resources. Learn from what you listen to online. #mayoinoz pic.twitter.com/tecp405Y4v

— Kamber (@KamberCo) September 1, 2015
5. Don't be intimidated by the possibility of your online reputation being tarnishing
Yes, trolls and negative reviews exist. But the majority of healthcare organisations on social media are surprised that majority of conversations happening about them online are positive, or completely neutral. Having said that, there is still a risk of negative sentiment. Organisations need to be prepared to manage their online reputation. Director of Web & Communications Technology, University of Maryland Medical System, Ed Bennet, explained that you need to be three things:
Reactive: listen and have a good plan in place
Proactive: use the right tools to build trust and authority with your audience
No-active: let your advocates speak for yourself.
Google search yourselves, set up Google alerts, and have a plan for if it does go bad. But don't let it hinder the online presence of an organisation.
"When motor vehicles were introduced, there was no road rules. It's the same with social media now" @DrHWoo #MayoInOz #digitalhealth

— Kamber (@KamberCo) September 1, 2015
"We don't have dedicated social media staff. Our staff are comfortable communicating with people. It's very simple" @EdBennett #MayoInOz — Kamber (@KamberCo) September 1, 2015
"Most people arn't expecting you to be there, and they're often delighted if you reach out" – @CynthiaManley #mayoinoz #digitalhealth — Kamber (@KamberCo) September 1, 2015
6. Patients aren't looking for advice, they want information
There's a lot of information out there, making it vital your content is patient orientated. Consider their decision making process and journey in a particular disease state. Produce, create and distribute content that provides information that supplements particular turning points in the patient decision or disease state journey. This should include SEO and review sites, as well as social media.
"Be patient orientated" – @s_uehara on how to boost your #digitalhealth social media presence. #MayoInOz pic.twitter.com/KR0ghISUBt

— Kamber (@KamberCo) September 1, 2015
"Acknowledge the 7 stages of a patient journey in your content" – @s_uehara #mayoinoz #digitalhealth pic.twitter.com/98VrDeqDbb

— Kamber (@KamberCo) September 1, 2015
"The rise of online mummy forums = rise of inaccurate info out there" @ClaireyHewitt on blogging as a hospital #mayoinoz #digitalhealth — Kamber (@KamberCo) September 1, 2015
"Not many docs can spend an hour on a tweetchat. Let's share 10mins of TRUE info" @SeattleMamaDoc #mayoinoz #digital pic.twitter.com/2HYVEyL5lW — Kamber (@KamberCo) September 1, 2015
7. Social media does not = Facebook
Yes, Facebook is a dominating platform where organisations should be to listen and connect, but it's not the only one. Know the platforms beyond Facebook where your audience is active, and be creative with the content you publish across each. This includes blogging as an organisation or a professional personality. Seize the opportunity to listen and syndicate your message in these spaces, whether that be a video, a blog post, or an important media release that otherwise would have got lost in a busy news day. And don't be afraid to add a human element to these. Think that if you had to ask why or how, there's a possibility others might be asking too.
"Our patients favourites are Facebook, Twitter and Instagram. These are the places we go first" @ClaireyHewitt #mayoinoz #blogging

— Kamber (@KamberCo) September 1, 2015
8. Medical data is changing, we need to change with it
One day, possibly very soon, patients will own their own medical data. With sites like Open Notes, Patients Like Me, and Smart Patients growing, healthcare professionals and communicators need to start thinking of ways to consult into this. Like it or not, this is the future. Dr Wendy Sue Swanson provided a great example with the Seattle Children's Hospital Digital Health – Virtual Handshake. The Virtual Handshake communicates before, during and after medical visits with curated health information for parents and caregivers. Heathcare professionals and communicators need to be innovative about ways to adapt.
Follow @KamberCo for live updates of #MayoInOz Day Two tomorrow.