Platform 5: This week's most important social media changes (edition 37)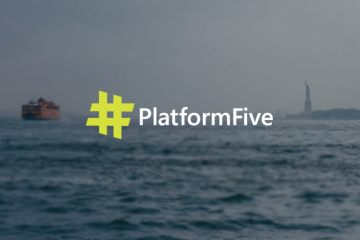 This week's most important social media changes with a focus on virtual reality video
We take a look at what's changed in the last seven days and what it means.
Welcome to this week's Platform 5 – your weekly wrap of the top five changes in the content marketing and social media space – with a focus on YouTube supporting virtual reality video
In this week's edition, the rise of visual content is prominent. YouTube announced they are now supporting virtual reality video, Pinterest introduced a visual search option, and Facebook Messenger rolls out their new Photo Magic feature to Australian users.
1. YouTube supports virtual reality video
YouTube's Android smartphone app now supports virtual reality uploading and viewing. Virtual reality content requires viewing through Google Cardboard (cheaper alternative goggles to the HTC Vive or Oculus) used in conjunction with a compatible smartphone. Any YouTube video can be viewed through them, but only virtual reality compatible videos will be seen in virtual reality. This announcement coincides with news from the New York Times, publishing the NYT VR app on iOS and Android where subscribers receive a free viewer with their Sunday morning paper.
Read more about YouTube introducing virtual reality video. 
2. Pinterest introduces visual search
Pinterest has announced a visual search tool that will allow users to search for items without using text. When viewing a pin, a user will be able to select the new search button in the top right corner of the image that will allow them to crop a portion of the image they are interested in, and refine their search results. The feature will be available on both mobile and web versions of Pinterest, rolling out to users this week.
Read more about Pinterest's visual search.
3. Facebook Messenger tests Photo Magic
Facebook Messenger is testing the way they use photo facial recognition with a new feature called Photo Magic. The feature, rolling out in Australia first, automatically detects when users take a new photo and sends a notification, promting users to send the image to the friends in that image via Messenger.  The option to enable Photo Magic will be available on Messenger on iOS and Android this week.
Read more about Facebook Messenger's Photo Magic.
4. Tinder algorithm change
Tinder has made a number of updates this week that feed a significant algorithm change to help prioritise more meaningful matches. Users can now hold a Smart Profile which includes additional information such as a users' job and education. The new algorithm will take into account the weight of these data points and search for more commonalities between profiles, giving brands a more targeted way to leverage the platform.
 Read more about Tinder's algorithm change.
5. Twitter Moments notifications to lessen
Twitter announced this week that that the blue dot notification that appears in the Moments tab will now appear less often.
You Tweeted, we listened! Now the blue dot notification in Moments will appear less frequently.

— Twitter Moments (@TwitterMoments) November 7, 2015
Moments was released last month and features a curated collection of news and tweets.
Read more about Twitter Moments notifications lessening.
Head on over to our Thinking section to read all our posts.