Platform 5: Google I/O 2016 Special Edition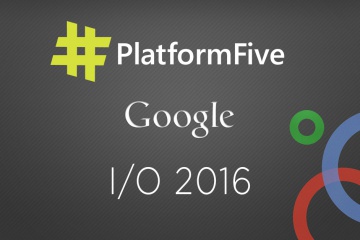 This week's 5 most important items announced at Google I/O
Each year Google unveils the latest products and improved performance in existing tools and services at Google I/O. Here we check out what we think are the top 5 standout products: Android N, Daydream, Allo, Duo and Home.
Let's take a look at these changes in more detail.
Android N
Google has explained what the new operating system Google Android N will support the Vulkan graphics API for mobile. This API helps to optimise graphics components which in turn provide better gaming performance. It will provide better multitasking, notifications, a VR platform, themed keyboards and new emojis.
Read more about Android N here.
Daydream
Google is looking to give the VR industry a shakeup with the Daydream platform. Google announced that Daydream will be integrated with Android N. The three main elements of Daydream necessary are smartphone specifications, headsets and of course, compatible apps. Daydream is about immersive content, longform and highly interactive without disruption.
Learn about Daydream here.
Allo
Allo is a new messaging app brought out by Google. Allo will allow users to chat with each other alongside Google Assistant and includes features such as 'Whisper Shout' where users can drag a finger up or down on the button to enlarge or shrink the text. Google is set to release Allo on iOS as well as Android smartphones.
Find out more about Allo here.
Duo
To take on the likes of Skype, Viber and other players in the field, Google is launching video messaging Duo. One interesting feature that makes it stand above the shoulders of others is the feature Knock Knock that lets you preview the callers side of things before answering the call. Time will tell what success it will receive in an area of already massively available similar services.
Get more info on Duo here.
Home
Google Home is looking to encroach the market in the similar reaches of Amazon Echo. Powered by Google Assistant, the small device aims to becomes a control centre for your home and is controlled by oice commands. Users can set alarms, manage to-do lists, incorporate it with smart home and networking devices and more. Looking forward, Home will start to control functions such as opening garage doors and managing shopping orders.
Check out more on Home here.
Follow us on Twitter for news of these social media and content marketing changes as they happen.