Platform 5: This week's most important social media changes (edition 55)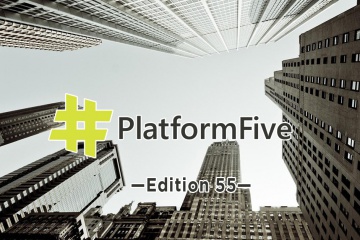 This week's 5 most important social media changes
What's changed in the last seven days? What does it mean?
Facebook Live added to Messenger, Twitter provides more personalised recommendations, Instagram to start testing business profiles, save streams forever on Periscope and Instagram reveals new ads in video carousels.
Let's take a look at these changes in more detail.
Facebook updates the Android Messenger app in a big way
There is now a Facebook Live button in the centre of the Messenger app, moving the Messenger button to the side. Clicking on this leads to a scrollable list of video content. This content is a mix of videos suggested by Facebook and content that has been popular over the last 24 hours. Clicking on a live video lets you comment and react in real time. These updates should make accessing new video content quicker and easier.
Learn more about the update here.
Twitter app adds more personalised follow recommendations
Twitter has launched a new tab called Connect to the iOS and Android apps. The tab is located at the top of the app and once clicked users can find a mix of information based on location, audience and events. Twitter has said the content reached through the tab will update and refine its recommendations over time as your interactions on Twitter evolve.
Learn more about personalised recommendations here.
Instagram is testing new 'Business' profiles
Instagram is testing a business profile feature which will allow companies and organisations to utilise the platform outside of the standard profile. Similar to Facebook Pages, the new Instagram profiles will include a contact button sitting next to the 'follow' button, a location tag hyperlink, and a category for the account. These new tools will become useful for allowing brands to promote themselves on Instagram without having to resort to the standard personal profile type.
Learn more about Instagram's business profiles here.
Periscope lets you save streams forever with new feature
Periscope is releasing a feature that will allow users to save streams forever. Previously the app only allowed the option to save broadcasts for up to 24 hours. Further announcements seem to indicate the new features will give users more customisation options relating to how long their broadcasts remain active on the app. The feature is only beta, but all users can use it by adding the hashtag #save to a stream title.
Learn more about changes to Periscope here.
Instagram to reveal new ads in the form of video carousels
Instagram is introducing video ads to the Carousel feature which was launched as a horizontal slideshow for images in 2015. This will mean that multiple video ads now take up the same space on Instagram's vertical feed, allowing users to swipe through them to view more. These changes mean that advertisers will be able to fit a total of five minutes' worth of video content into a single space, increasing chances of exposure.
Find out more about Instagram's ad carousels here.
Follow us on Twitter for news of these social media and content marketing changes as they happen.