Platform 5: This week's most important social media changes (edition 58)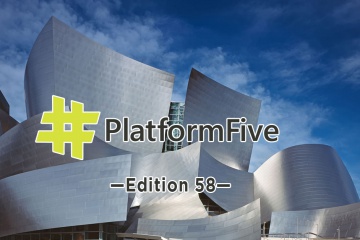 This week's 5 most important social media changes
What's changed in the last seven days? What does it mean?
Periscope to allow users to report negative comments, Google updates Now on Tap for Android, Instagram's algorithmic feed changes and business profiles are rolled out to all users and Snapchat is updating the Discover page.
Let's take a look at these changes in more detail.
Periscope introduces community content reporting
Periscope introduced a new way of reporting spam and abuse in the comments section of a broadcast. When a user tunes into live streams, comments can come in fast and heavy stacking up on the side of the stream. Moving forward, if any viewer deems a comment to be obscene or junk, they are able to flag it as abuse or spam. This will result in a block on abusive users with a general community consensus. Additionally, the updates include automatic targeting of messages with abusive phrases.
Find out more on Periscope's update here.
Google makes changes to Now on Tap for Android
Google announced new updates to the Now on Tap feature for Android which make it possible to see additional information about a selected word, photo or phrase. Previously, the Now on Tap feature was a way to see more information about whatever you were viewing on your phone screen. After the update, Now on Tap users are able to see more information on a selected word or phrase within an email, news article or in chat.
Read about the Now on Tap update here.
Instagram rolls out feed changes to all users
Instagram is looking to give the app a Facebook makeover. The algorithmic timeline will be rolled out to all users, ordering content from what users may care about most rather than chronological. Feeds will begin to act more like Facebook with users being presented with content based on popularity and other social and user insights. It has so far been reported that the new timeline has received more engagement than the previous iteration.
Read about Instagram's feed update here.
Snapchat is redesigning the Discover page
Snapchat will be redesigning its Discover page. The new design is reportedly going to ditch the current look for a tiled design similar to an Instagram feed. The new design will allow publishers to create custom cover images for channels, rather than the current view featuring logos in circle icons. This will allow publishers to place teaser content in tiles to attract engagement.
Find out about Snapchat's changes to Discover here.
Instagram rolling out business profile pages
Instagram looks to finally allow businesses to create profiles in the image sharing platform. Main changes include adding a contact button, email, phone number and directions to business locations. The update will also include detailed analytics and easier access to promoted content tools. The update will reinforce Instagram as a platform for promoted content with the ability to reach audiences through more data.
Read about Instagram business profile pages here.
Follow us on Twitter for news of these social media and content marketing changes as they happen.