Platform 5: This week's most important social media changes (edition 60)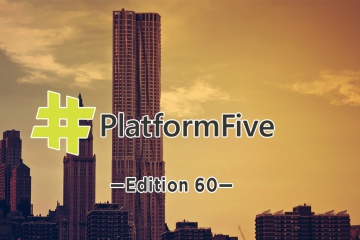 This week's 5 most important social media changes
What's changed in the last seven days? What does it mean?
Twitter rolls out Live streaming button and emoji keyword targeting, Pinterest adds new marketing tools, Google updates ad labels and Messenger now supports SMS on Android.
Let's take a look at these changes in more detail.
Messenger to support SMS on Android
Facebook's Messenger app will now support SMS messaging on Android. Users can now set the app as their default client for sending texts. Once the feature has been enabled in Messenger's settings, users can view text messages beside Facebook chats. The feature will also support the majority of rich content, including stickers, emoji, audio, photos and location data. iPhone users will have to wait and see if Facebook plans to roll the update out for the iOS app.
Pinterest adds new tools for marketers
Pinterest has just added three new ad tools to enhance advertising and marketing for business profiles. Within Pinterest Ads Manager users can implement customer list targeting (using emails or mobile ad IDs to target promoted pins), visitor retargeting (to reach users who have visited a certain account) and lookalike targeting (which aims to attract users with similar interests as an existing follower audience.
Twitter rolls out Live streaming button to all users
Twitter has now rolled out the 'Live' streaming button to all users, after a limited launch on the Android app. Users with Periscope installed on their smartphone will be able to quickly start live broadcasts. Tapping the Live button sends users to the Periscope app, where users can begin to host a live broadcast. For those without the app installed, the button will redirect to a download link.
Google updates all add labels to green
Google has recently confirmed that green ad labels will now appear on search result pages. Google continually tests ways to improve the look and feel of search result pages and after experimenting with the green label will make it visible to all users. After receiving positive feedback from users and advertisers during the test period, the change will be rolled across the board.
Twitter announces emoji keyword targeting
Twitter has announced that it will launch emoji keyword targeting for ads. This means that users of the social platform may be targeted by specific products based on their usage of emoji in tweets. The new targeting options will operate within the official Ads API. This may prove to add an enormously attractive and untapped angle for marketing agencies to approach.
Follow us on Twitter for news of these social media and content marketing changes as they happen.