Platform 5: This week's most important social media changes (edition 65)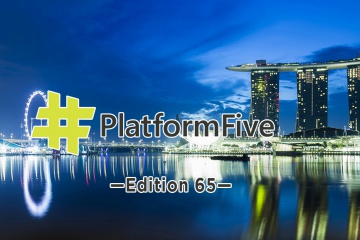 This week's 5 most important social media changes
What's changed in the last seven days? What does it mean?
Periscope can be viewed outside Twitter, Facebook updates Live, Twitter tests new composer design & launches account verification and Google Maps updates.
Let's take a look at these changes in more detail.
Periscope videos will now play inside embedded tweets
Periscope videos can now be played outside of the website and main app. Videos will now play inside tweets when they've been embedded on other websites. This latest update means Periscope broadcasts will function like other videos when appearing outside of Twitter or Periscope. Previously only a URL to the broadcast would appear.
Read more about Periscope here.
Facebook releases updates to Live
Facebook has made a number of improvements to live broadcast. Facebook Live now supports fullscreen broadcasts and a new video-only mode that will hide reactions and comments. Additionally, broadcasts can now last up to four hours, doubling the previous limit. Changes are currently rolling out to all users on all platforms.
Read more about Live's updates here.
Twitter testing tweet composer redesign
Twitter has started testing a new look for the tweet composer in the iOS app. It aims to move the app's tweet composer to the top of the timeline, rather than through a separate part of the app. The changes will give the app similar function to that of the desktop version of Twitter. It isn't yet confirmed whether or not this change be roll out to all users.
Read about Twitter testing composer changes here.
Twitter releases account verification to all users
Twitter is rolling out account verification options to all users and companies. Anyone can now attempt to get the blue checkmark through an online application form initially rolled out to the U.S. but is now available worldwide. The same requirements for verification still exist, although the process has now been more streamlined through the online form.
Read about Twitter verification here.
Google Maps show how long people stay in stores
Google is now revealing to searchers how long they may be at a specific store or venue based on crowdsourced data, collected from users who travel to certain stores. Within the popular times section of Google Maps local listing pages, Google will serve information outlining the typical amount of time someone may spend at that location.
Find out about Google Maps updates here.
Follow us on Twitter for news of these social media and content marketing changes as they happen.