Platform 5: This week's most important social media changes (edition 67)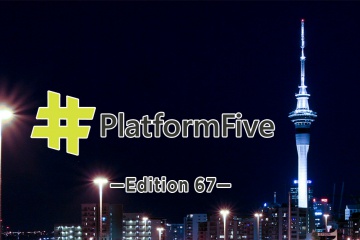 This week's 5 most important social media changes
What's changed in the last seven days? What does it mean?
LinkedIn release Video Q&A content, Snapchat launches new Geostickers, Instagram rolls out comment moderation and Stories and Google expands local search.
Let's take a look at these changes in more detail.
LinkedIn look towards video with influencer Q&A clips
LinkedIn is showing signs of supporting video content. A collection of Influencers (notably professionals such as Bill Gates, Richard Branson and Arianna Huffington) will be able to upload 30 second clips. Discussions will remain professional so as to keep with the overall intention of LinkedIn, but this at least shows signs that the platform is trying to keep up with the times, and will hopefully extend video to all users in the future.
Read more about Linkedin videos here.
Snapchat release set of new Geostickers
Snapchat has launched a new set of locational icons. The Geostickers will be rolled out to selected major cities such as New York, San Francisco, Paris, London and more. Similar to Geofilters, the sticker icons feature images that can be placed over Snapchats relevant to the location. They include graphics that feature local landmarks, culture and recognisable traits to the location. Features like this should act to prompt users to post even more content to the image and video sharing service.
Find out further details on Geostickers here.
Instagram to roll out comment moderation
Instagram will soon be rolling out new tools that will let users activate word and phrase filters on their profile to reduce the chance of an unwanted comment appearing in discussions. Comments will also include an option for complete deactivation per image or video uploaded. This will work towards Instagram's aim to become a 'friendly, fun and safe place for self-expression'.
Find out more about Instagram's update here.
Instagram launches 24-hour time limited Stories
Instagram has launched 'Stories' which, similar to Snapchat, allows users to upload photos and videos on posts that expire after 24 hours. With the change, Instagram hopes to reach out towards crowds that prefer the rawness of images that may appear on Snapchat, without the hours of painstaking post-production applied to many Instagram accounts. They are also hoping to prompt brands that are yet to approach the platform for marketing opportunities.
Learn more about Instagram Stories here.
Google expands local searches for food and drink
Google has announced that local searches for food and drink via the app will now include restaurant and bar reviews and any 'best of' lists where the search location has been mentioned. Currently the feature has only been rolled out to those located when searches are performed in the US, but Google will look to release these to the rest of the world after promising results.
Read about Google's update for search here.
Follow us on Twitter for news of these social media and content marketing changes as they happen.