Platform 5 (Double Edition): This week's most important social media changes (edition 74)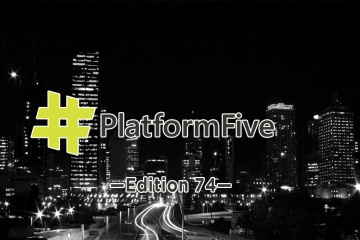 This week's 5 10 most important social media changes
What's changed in the last seven days? What does it mean?
It's been a big week for changes on social media so this week's Platform 5 features 10 of the most important updates across the board.
Let's take a look at these changes in more detail.
Twitter announces the end of Vine
Vine, the video sharing platform brought out by Twitter, has been discontinued. Viewers can still continue to access published content the Twitter will be discontinuing the app and platform.
Read more here.
Verified Facebook profiles receive ad revenue
Facebook will allow verified profiles to receive ad revenue from sponsored posts. Verified profiles will now be able to share brand content including sponsored text posts, photos, videos and more.
Read more here.
Microsoft's Skype app receives redesign
Microsoft is releasing a redesigned Skype app on iOS and Android making it more mobile-friendly. New features include single-tap access to make video or calls much easier.
Read more here.
WhatsApp releases video calling
Updates to WhatsApp will introduce video calling along with text and voice calls. In the first update it will only be available to Android handsets and iOS users will have to wait.
Read more here.
Windows 10 Facebook app to have voice and video calls
A new update to the Windows 10 Facebook app will allow users to use voice and video calls. A phone icon in the corner opens up new access to call contacts.
Read more here.
Instagram may launch live video streaming
Instagram may be looking to launch a live video streaming feature on the content sharing platform. 'Go Insta' may give the option of live and scheduled streaming, but full details are yet to be revealed.
Read more here.
Instant Articles gain access to additional features
Facebook publishers will now be able to create more visually immersive Instant Articles with the 360-degree video and photo feature. The update also includes faster loading times, options for revenue and embedded features.
Read more here.
Instagram now available on Windows 10 tablets
Instagram has been released on Windows 10 tablets after recently being available on Windows 10 mobile. All features will be available directly through the app.
Read more here.
Facebook Live to have scheduling
Facebook is releasing a scheduling feature for broadcasting Live videos, initially only available to verified pages. General users will gain access in the coming weeks.
Read more here.
LinkedIn launching Company  Pages
Linked in is about to launch Company Pages, a feature with a new design, a dedicated admin and management page and an expanded analytics dashboard. New information on this will be announced by LinkedIn soon and early access is available by invite only.
Follow us on Twitter for news of these social media and content marketing changes as they happen.