Platform 5: This week's most important social media changes (edition 72)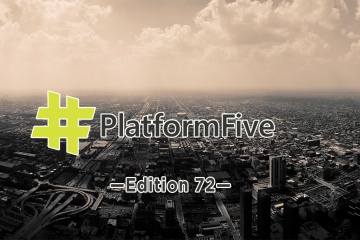 This week's 5 most important social media changes
What's changed in the last seven days? What does it mean?
Twitter adds Periscope links to profiles, Facebook releases Marketplace and Messenger Lite, multiple updates to Adwords Editor and Yahoo updates Newsroom.
Let's take a look at these changes in more detail.
Twitter allows users to add Periscope link to profiles
Periscope will be further integrated with Twitter with an option to provide a profile link in your Twitter account. Similar to the way Vine currently works, the link will appear in the bio section of a profile once it has been added and will feature a Periscope icon next to it. When a user starts a new stream, the icon will flash indicating broadcast is currently live, allowing others to tune in. The setting can be enabled in profile settings.
Read more about the updates here.
Facebook introduces buy and sell Marketplace
Facebook looks to take on digital commerce with Marketplace, a new feature in the iOS and Android app, being pitched as a convenient way to buy and sell items within the community. With buying and selling already occurring on the social network through groups and pages it was only a matter of time before something official was created. Facebook will continue to roll out new features and options going forward.
Learn more about Marketplace here.
Facebook debuts the slimmer Messenger Lite
Facebook has released a slimmed down version of the Messenger app dubbed Messenger Lite. The smaller version offers simply the core features of Messenger. One major reason for the stripped down app is to assist users with weak network conditions and poor hardware to access and use the platform. It also takes up less space on a handset allowing handsets with smaller internal memory to install and use the app.
Read more about Facebook Lite here.
AdWords Editor now supports more ad formats, device bidding
New features in the latest version of Adwords Editor includes support for a variety of ad formats and new device bid adjustments for desktop, portable and mobile devices. For Gmail, Editor supports single promotion and image templates and Advertisers can create and edit Gmail ads. Universal ad campaigns can be created in Editor for app install ads across Google Search, Play and YouTube, and in apps and mobile sites on the Google Display Network (GDN) and more.
Learn about more updates to Adwords here.
Yahoo updates Yahoo Newsroom with a social focus
Yahoo has redesigned their mobile app to make it easier for users to discover relevant content and enabling users to participate in conversations around issues they are passionate about. The redesign has an emphasis on users not only reading through more news that interests them but also commenting on it and engaging in discussions with millions of other users around the world.
Read about the updates to Yahoo Newsroom here.
Follow us on Twitter for news of these social media and content marketing changes as they happen.