Platform 5: This week's most important social media changes (edition 78)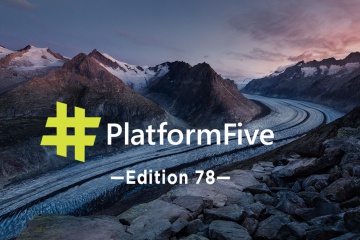 This week's 5 most important social media changes
What's changed in the last seven days? What does it mean?
Facebook updates video app and job tools, stream Periscope on Twitter, updates to LinkedIn and live streaming on the YouTube app.
Let's take a look at these changes in more detail.
Twitter add periscope streams to top trends
Twitter is adding Periscope livestreams to the top trends feed in an attempt to get users watching more video content. This will include streams in the Explore tab, identified with a 'live' icon next to the results. The platform is now also testing 'top videos for you' section based on browsing habits.
Read more aboutu Periscope streams here.
Facebook launch job opening tools
Facebook looks to compete with LinkedIn announcing the launch of their new jobs bookmark on mobile apps and web. Page admins will be able to publish job openings and users will be able to locate them through the bookmark tool featuring a search filter. Job content can also be boosted like other approved posts to reach more targeted audiences.
Learn about Facebook jobs here.
LinkedIn allows contractors to self-identify
LinkedIn has introduced a new option to the platform that will allow users to self-identify as a contractor, in addition to the already existing full- or part-time, internship, freelance and remote preferences. Recruiters will be able to filter on this type when searching for potential candidates.
Learn about updates to LinkedIn here.
YouTube rolls out live-streaming via app
YouTube creators with over 10,000 subscribers will receive the ability to livestream from the app, before the feature is rolled out to all users. The feature will be a part of the already existing app, with the Live button sitting at the top. Video content will have the same features are regular YouTube videos, namely being searchable and located via playlists and recommendations.
Read about YouTube ap updates here.
Latest Facebook app update makes changes to video
Facebook is rolling out new video playback features on the mobile app and a new app for TVs. Video content will autoplay with sound that will fade in and out while scrolling. The feature once it has rolled out to all users can be switched off by default and will still not play on devices switched to silent. Videos will also have a larger preview for vertically formatted content.
Read about changes to Facebook here.
Follow us on Twitter for news of these social media and content marketing changes as they happen.