Platform 5: This week's most important social media changes (edition 83)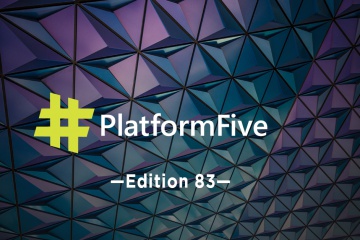 This week's 5 most important social media changes
What's changed in the last seven days? What does it mean?
New app allows links in video, Google is working on photo editing and sharing app, Tinder on Desktop and a bunch of updates for Facebook and Messenger.
Let's take a look at these changes in more detail.
New iOS app allows product links in video
Dubcandy, a new app for iOS, will allow content creators to include five links directly inside videos before they are shared on Twitter and Facebook. 5 products can be 'tagged' through affiliate programs (such as Amazon). A link will then open a pop-up to click through to an external page. The app includes data, viewer behaviour analytics and purchase information.
Read more about the Dubsuite here.
Tinder becoming available on desktop
Tinder is moving on from mobile platforms with the announcement of a browser-based version of the app. Aptly named 'Tinder Online' currently allows users from a handful of countries to access the platform before a worldwide rollout. The functionality is similar to the mobile version with the obvious difference of hardware accessibility, such as swiping with a mouse click and drag.
Read about Tinder on desktop here.
Google working on new photo editing & sharing app
Google may be working on a new app for photo editing and sharing. Reports state that the app will also allow groups to edit photos collaboratively and organise them. There are no indications of whether the app will launch publicly, but it may be a move for Google towards similar apps like Moments on Facebook. We'll report more once it becomes available.
Read about Google's possible new app here.
Real-time location tracking in Messenger
Facebook rolled out Live Location in Messenger, a feature allowing users to share location information with friends and family. The enhancement exposes the real-time location of a user for up to an hour to all members of the chat, including progress tracking. The app will also show arrival estimations.
Learn about user tracking in Messenger here.
Facebook rolls out Snapchat-style Stories and new camera effects
Facebook's latest update includes a Snapchat-esque feature, 'Facebook Stories' as well as Facebook Camera and Direct. Stories highlights content in a horizontal feed that disappears in 24 hours (like Instagram Stories). Direct is similar to Snapchat's feed for person to person messaging. If you're familiar with Snapchat and Instagram, this update will be easy for you to jump straight into.
Check out more on Facebook Stories here.
Follow us on Twitter for news of these social media and content marketing changes as they happen.