Platform 5: This week's most important social media changes (edition 80)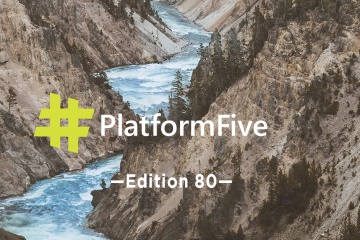 This week's 5 most important social media changes
What's changed in the last seven days? What does it mean?
Twitter updates user control, Messenger is redesigned, Facebook releases more News Feed updates and a new Page inbox and Periscope opens up features to all users.
Let's take a look at these changes in more detail.
Twitter updates give more users control
Twitter has announced new controls in notifications allowing users to utilise a set of advanced filters to block notificationsTwitte from certain account types. The broader controls allow notifications from accounts you don't follow, or specific accounts (such as egg profiles, unverified emails or accounts without phone numbers). The additional control should allow users a cleaner experience.
Read more about Twitter updates here.
Messenger for Android receives updates and redesign
Facebook looks to streamline the Messenger app by moving icons (such as images, audio recording and GIFs) to a single row. There are also plans to integrate M, the personal assistant. The text field has shrunk to allow access to icons to the left under a 'plus' folder. While M is not currently very useful while in beta, future updates may offer much more in the way of integrated communication.
Read more about Messenger updates on Android here.
Facebook updating the News Feed algorithm
Facebook will look to prioritise reactions rather than likes when ranking content on News Feeds. Facebook has claimed that the reaction feature—which includes Love, Haha, Wow, Sad and Angry—gives a stronger indication of what someone may want to see. Based on engagement data, users will start to see more relevant content based on their use of reactions.
Read more about the algorithm change here.
Facebook updates inbox for mutli-platform access
Facebook has redesigned the inbox for Pages to include Instagram, Messenger and Facebook interactions. The change forms part of Facebook's plan to make things easier for businesses to manage interactions across the suite of platforms. It's yet to be seen if the feature will be rolled out to all users as currently it appears only available to U.S. users.
Read more about Facebook Pages redesign here.
Periscope update releases advanced sources to all users
Periscope has rolled out the ability to broadcast from a variety of devices (like HD, VR headsets and 360 cameras) to all users. Previously only popular creators were allowed to utilise these devices for their streams. Both on iOS and Android, users will now see an 'advanced sources' option in the settings area where the additional features are now available.
Read more about updates to Periscope here.
Follow us on Twitter for news of these social media and content marketing changes as they happen.