Platform 5: This week's most important social media changes (edition 81)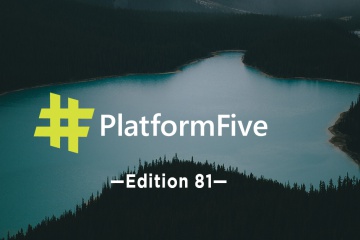 This week's 5 most important social media changes
What's changed in the last seven days? What does it mean?
Facebook roll out Messenger Day, a VR app and a Dislike button to all users, Instagram has geostickers and will be introducing ads between Stories.
Let's take a look at these changes in more detail.
Messenger Day to roll out to all users
Facebook is set to roll out Messenger Day, an app that allows users to shares stories for 24 hours, on iOS and Android for all users. The feature is not dissimilar to Snapchat and Instagram Stories, where content will display to friends and disappear after 24 hours. While there are no selfie filters, there are graphics and stickers to enhance content.
Read more about Messenger Day here.
Facebook app for Virtual Reality goggles
Now filled with over 25 million 360-degree photos and immersive videos, Facebook is releasing an app designed specifically for virtual reality headsets. Powered by Oculus, Facebook 360 will be available for the Samsung Gear VR and Gear VR-compatible goggles. It will feature a new feed specifically for VR users.
Read more about Facebook's VR app here.
Facebook may be testing dislike button
Facebook is testing the dislike button on Messenger along with a number of other Reactions. Hovering over a message shows an emoji button including new options, with the Dislike featured as one of them. Within a group chat, users will see the Reaction linked to a specific message and will show a list of those that have reacted. It's yet to see if Dislike will be rolled out to all users.
Read more about the Dislike button here.
Instagram introducing ads between stories
The photo sharing platform will be opening up to advertisers, allowing them to place ads between story content. After a stage of testing with major companies, the company will be opening up to all businesses. Ads will last between 5 and 15 seconds per video and feature a 'sponsored' label. Users will still be able to skip ads with a swipe.
Read more about ads on Instagram here.
Instagram stories now features geostickers
In a bid to apparently be more like Snapchat, Instagram stories will now feature geostickers. Just as with Snapchat, stickers allow users to add original images specific to the area they're in. initially these will be rolled out to major cities then rolled out to all users. The will be available in the latest update for iOS and Android, so get those devices to a hotspot soon.
Read more about geostickers on Instagram here.
Follow us on Twitter for news of these social media and content marketing changes as they happen.