Platform 5: This week's most important social media changes (edition 85)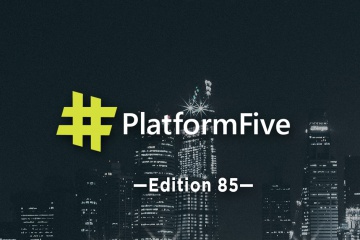 This week's 5 most important social media changes
What's changed in the last seven days? What does it mean?
Apple's Clips hits a million downloads, M released to US users, Snaplications for McDonald's, Instagram adjusts their inbox and group payments in Messenger.
Let's take a look at these changes in more detail.
Apple's Clips reaches over a million downloads
Apple's new video-editing app 'Clips', launched earlier this month, has already reached over a million downloads. Clips is aimed at users of Instagram and Snapchat and allows them to easily create entertaining video content which can then be shared on other platforms. Spoken words can also be automatically changed to text and added to clips live.
Read more about Apple's Clips here.
M rolls out to US users.
M, Facebook's AI assistant, is now available to all users in the US. Next to the textbox is a small 'M' icon which can be used to access the interface. M will pop up in chats to assist with things, such as directions to a location or access to other apps without having to leave Messenger itself. No word on a worldwide roll out yet.
Read more about M here.
Apply for jobs with a Snaplication
McDonald's in Australia has become the first business to utilise Snapchat for a job application process. A custom filter allows users to wear a virtual uniform and submit a 10-second application, known as a 'Snaplication'. Although successful applicants won't be hired on the Snaplication alone, McDonald's will direct users to the online career hub to continue the application.
Read more about Snaplications for McDonald's here.
Instagram merges disappearing and constant inboxes
Instagram has refined an existing functionality related to their disappearing messages. There is now a separate inbox including both disappearing messages and permanent in a single feed. Stories no longer appear in bubbles at the top of a feed. Disappearing messages will appear with a blue circle around them where standard messages will have black.
Read more about Instagram's updates here.
Group payments now in Messenger
Facebook Messenger is increasing its suite of payment tools the inclusion of group payments. Users will be able to send money to groups within the app. The feature can be useful for splitting bills or making a shared purchase with a group of friends. The feature can be accessed by creating a group and tapping the payments icon.
Read more about group payments in Messenger here.
Follow us on Twitter for news of these social media and content marketing changes as they happen.