Platform 5: This week's most important social media changes (edition 86)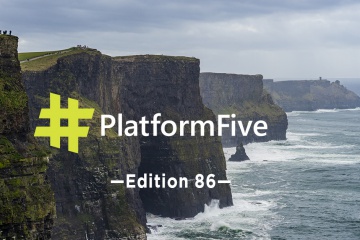 This week's 5 most important social media changes
What's changed in the last seven days? What does it mean?
Tons of announcements for Facebook and Instagram at the F8 developers conference with plenty of new updates, software and hardware being released.
Let's take a look at these changes in more detail.
Facebook is engineering a 360° camera
At the recent F8 conference, Facebook introduced their Surround 360 x24 and x6 cameras, created for professional film makers. The new technology will allow users can move through the footage up, down, left and right unlike previously where users were only able to pan. There is no current release date yet.
Read more about Facebook's camera tech here.
Instagram update allows offline browsing
Another announcement from Facebook at the F8 conference centred around an Instagram update allowing users to browse the image sharing app without an internet connection. The app will save a cache to the local device, allowing access offline including the ability to create comments, save or like photos and follow or unfollow accounts. These actions will occur the next time the device is connected.
Read more about offline Instagram here.
Facebook releases Camera Effects Platform
Facebook is tackling augmented reality head on with the new Camera Effects Platform. The toolset allows devs, artists and standard users the ability to build frames, and filters that can be overlayed on media, including Live posts. The platform offers two sections:  Frame Studio and AR Studio. There's too much to cover here so check out the following link.
Read more about Facebook's Camera Effects Platform here.
Facebook's AR Spaces in beta
Another takeaway from F8 was Facebook's Spaces. A virtual reality platform that gives Facebook users a virtual environment where they can interact with friends. Users create customisable avatars that can join up to three other friends and chat, share 360-degree content, create virtual drawings and, of course, take selfies.
Read more about Facebook Spaces here.
Instagram launches private collections
Instagram's private collections allow users to organise saved images for easier access. Along with the recently released ability to privately save posts, the new update allows the creation of collections, grouping selected content together. Content can be saved to newly created groups or a added to already existing ones. collections are accessible in the saved posts tab from users' profile
Read more about Instagram's private collections here.
Follow us on Twitter for news of these social media and content marketing changes as they happen.