Platform 5: This week's most important social media changes (edition 87)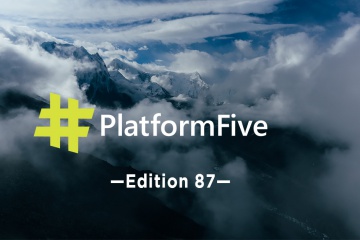 This week's 5 most important social media changes
What's changed in the last seven days? What does it mean?
Use Facebook Reactions in comments, preview the new YouTube, Instant Games expands, Marketplace gets a makeover and Twitter makes a live video announcement.
Let's take a look at these changes in more detail.
Use Facebook Reactions in comments
Users with access to a new feature can now use Facebook Reactions as a response to comments. Hovering over the like button will open up the familiar reactions menu. After being used 300 billion times in the first year of their launch, users have indicated they wanted more ways to use Reactions, though it is not yet available to everyone.
Read about Reactions to comments here.
Preview the new-look YouTube
YouTube users can now access a preview of the video sharing site's new design. YouTube have stated they wanted to delivery a more beautiful and intuitive user experience, with simplicity, consistency and beauty as the three principles behind the makeover. Anyone can access the new look by heading to youtube.com/new and YouTube have said there are more new features coming soon.
Read more about the new YouTube design here.
Facebook expands Instant Games
Facebook have expanded Instant Games, social gaming that can be accessed through chat, making it faster and integrating Messenger bots. Bots can help to prompt players for their turn and update leaderboards. There are 50 titles currently available, although not all are compatible with every device and there are many new titles on the way.
Read more about Instant Games here.
Marketplace gets a makeover
Facebook has overhauled the look of Marketplace, with new icons and improved search functionality and filtering. Marketplace can be accessed via a tab at the bottom of the app. The changes aim to make Marketplace easier to use and visually more appealing, with colourful icons. Facebook hopes the changes will allow better discovery and an overall smoother user experience.
Read about the new-look Marketplace here.
Twitter expands live video
Twitter made a massive announcement in the way of an expansion to their live video offering. The social media platform has partnered with 12 major outlets, including news platforms, sports publishers and music events. Users will have access to hundreds of hours of exclusive live content and original programming. Twitter aims to be 'the first place to see what's happening'.
Read more about Twitter's live video here.
Follow us on Twitter for news of these social media and content marketing changes as they happen.