Platform 5: This week's most important social media changes (edition 88)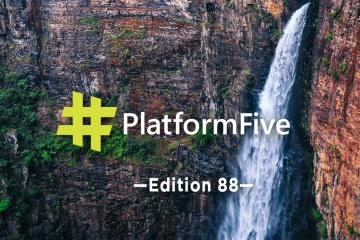 This week's 5 most important social media changes
What's changed in the last seven days? What does it mean?
Pinterest updates Lens, Periscope 360-degree live on Android, Facebook TV may launch soon, updates to Snapchat and Instagram's mobile site gets a facelift.
Let's take a look at these changes in more detail.
Periscope live 360-degree now on Android
Users of Periscope for Android can now broadcast live 360-degree video. Previously the feature was only available to iOS users through Periscope Producer. Live 360-degree streams are given a 'Live 360' badge and can be viewed through Twitter or the Periscope app.
Read more about 360-degree live video here.
Updates to Pinterest Lens
Pinterest launched several updates to Lens, a feature that can suggest related pins based on what images users take with their smartphone camera. Lens can now be pointed at a room and identify multiple features and provide rich data, such as items of similar style and colour. It can also be used on full outfits to get information on all items of clothing.
Read more about Pinterest Lens here.
Facebook TV may be launching soon
Facebook may be launching their competition for the likes of Netflix with Facebook TV. The platform that looks to provide exclusive and original content may be available as early as July this year. It's been reported the launch wiill include 20 new full-length shows and a number of shorter episodes to be refreshed daily.
Read more about Facebook TV here.
Major updates to Snapchat
New updates to Snapchat bring a number of features, including an eraser that allows users to edit and remove objects from their photos. This comes with a suite of changes including snaps without time limits, looping video and drawing with emoji instead of the pen tool. We await further updates in their bid to stay ahead of the competition.
Read more about Snapchat updates here.
Instagram's mobile website gets facelift
Instagram has given their mobile website a massive upgrade including photo sharing and a lite version of the Explore tab. This gives users more access from their desktop but also those in nations with slower networks the ability to access previously unavailable features. It has been fully optimised for phones and will give users a fuller experience.
Read more about Instagram's updates here.
Follow us on Twitter for news of these social media and content marketing changes as they happen.