Platform 5: This week's most important social media changes (edition 89)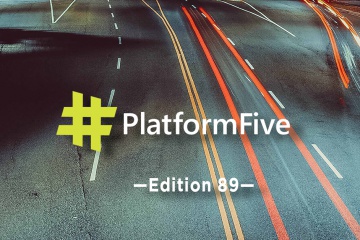 This week's 5 most important social media changes
What's changed in the last seven days? What does it mean?
Updates to Messenger, Twitter gives users more control, Instagram & Face Filters, Pinterest visual search expanded & Snapchat TV to host streaming content.
Let's take a look at these changes in more detail.
Facebook Messenger gets an update
Facebook Messenger is making changes to the way content on the home screen is sorted to help make navigation quicker and easier. New tabs at the top of Messenger lets you move between messages, contacts and groups. Activity between areas will also be indicated with a red dot. Facebook hopes the changes highlight other ways people connect beyond text messages.
Read more about Messenger's updates here.
Twitter has a major Privacy Policy update
In case you haven't seen one of several notifications, Twitter has updated its privacy policy and is giving users more control over their data and personalisation preferences. Your Twitter Data in the apps settings now includes details  for a number of profile options, like demographic and interest insights, as well as when advertisers have included them in tailored audiences.
Read about all Twitter's recent changes here.
Instagram launches Face Filters
To keep up with Snapchat, Instagram has launched a range of new overlays that work with selfies, photos and video content, including real-time. Face Filters work with both the front-facing and back camera, and they can be accessed through the face icon on the app. The update also includes Rewind, allowing users to reverse video content. Hashtags can now act like stickers that can be clicked to reach more content.
Read more about Face Filters here.
Pinterest launches promoted visual search for brands
Advertisers will gain access to image search features which will allow them to provide deeper data on search results for users. Content found using the image search will now include paid pins that feature similar visual content such as colour patterns or objects. Paid pins can drive users to buy products utilising the built-in ecommerce system of Pinterest.
Read more about updates to Pinterest here.
Snapchat to host original streaming content
Snap has been speaking with a number of high-ranking media companies (like ESPN and Vice Media) on producing content for their streaming service, Snap TV. The new streaming service will look to host a number of short-form, curated content and original programming from the likes of A&E, Discovery, Fox and sports like the NFL. Content will stream daily from the Stories section.
Read more about Snap TV here.
Follow us on Twitter for news of these social media and content marketing changes as they happen.