Platform 5: This week's most important social media changes (edition 93)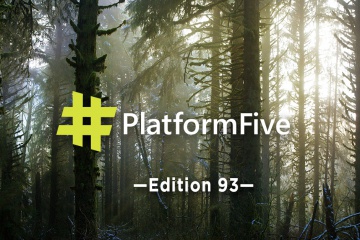 This week's 5 most important social media changes
What's changed in the last seven days? What does it mean?
Oculus Spaces has new shareability, My Google Business messaging, Messenger bot updates and native ads are coming and LinkedIn users can now upload video.
Let's take a look at these changes in more detail.
Oculus Spaces adds new Facebook sharing features
Oculus Spaces has a new feature aimed at enhancing social sharing aspects. Users can now share Facebook live video generated from within the Virtual Reality app. A virtual camera can be positioned within the VR environment and be broadcasted to other users. Content can also be added directly to timelines and Messenger.
Read more about sharing on Spaces here.
Google rolls out updates for Google My Business
Google looks to be rolling out a new feature to Google My Business customers that will allow messaging. The tech giant was previously testing the feature in November last year but is now rolling it out to US businesses. The option can be accessed through the Google My Business homepage through the 'Messaging' section. It's yet to be seen when the rollout will include all locations.
Learn more about messaging in Google My Business here.
Messenger bot development receives updates
Facebook Messenger bot developers now have access to five new message tags. The tags are able to be deployed in particular cases outside the 24-hour platform policy window to respond to customer actions and send messages. Facebook software engineers have stated they are strictly limited to non-promotional communications.
Read more about Facebook Messenger bot updates here.
Ads are coming to Facebook Messenger
Facebook has revealed an expansion of their beta testing of ads on the Messenger app. Advertisers will soon have the option to buy ad space to be displayed in the messaging platform. The expansion of the ad platform into Messenger will give users the opportunity to discover more brands they like based on their behaviour on the social media platform.
Read more about ads on Messenger here.
LinkedIn to launch native video uploads
LinkedIn has caught up to other major social network platforms giving users the ability to upload and share video content natively. Videos will start to appear in feeds and will play automatically with the sound off. There will be anew video camera icon located in the app's status update field. Users can click the icon to record video and upload directly or from the camera roll.
Read more about updates on LinkedIn here.
Follow us on Twitter for news of these social media and content marketing changes as they happen.