Platform 5: This week's most important social media changes (edition 94)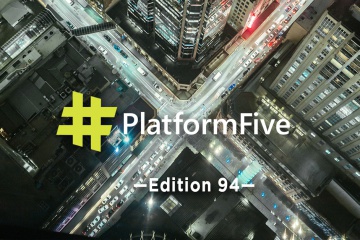 This week's 5 most important social media changes
What's changed in the last seven days? What does it mean?
Facebook turns sound on by default, launches Groups for Pages & removes the ability to edit links, Snapchat updates and Google launches a personalised feed.
Let's take a look at these changes in more detail.
Google update introduces personalised feed
A major update will change the face of Google in the form of a news feed, similar to that of Facebook. The feed will show users content they may want to view before performing a search, including news, features, music and videos. Suggested content is determined based on previous searches. Search results will also feature a 'follow' button, allowing users to add them to their feed.
Read more about Google's changes here.
Facebook turns on video sound by default
Facebook stated that recent user feedback is the reason for turning sound back on by default for video content. If you're like the majority of users there's nothing to worry about. Sound on by default can be changed in the app's options on both iOS and Android. Facebook has also said it has begun testing a larger preview for vertically filmed videos which will roll out soon to users on all devices.
Read more about Facebook video here.
Facebook launches Groups for Pages
Face launched Groups for Pages, allowing Facebook Pages to create communities and feeds with distinct resemblance. After testing the feature earlier in the year, the full roll out will soon be available to all users. It will allow users invested in a brand or company to be more involved in discussions and conversations that previously were not as easily possible on open Pages.
Read more about Groups for Pages here.
Send longer snaps with the latest Snapchat update
The ability to send 60-second snaps (although composed of six 10-second video clips) is now available to all users on iOS and Android. Additionally, Snapchat users now have access to a new editing tool called 'Tint Brush' that gives the ability to change colours of objects in static snaps. Multi Snap works similar to burst mode allowing successive clips designed to assist on getting the timing just perfect for Snaps.
Read more about Snapchat updates here.
Facebook removing the ability to edit link posts
In a continuing bid to fight fake news, Facebook's latest update will remove the ability to alter link post content. The image, headline and description will take information directly from the source. Some publishers have been given the ability to change the content if they're able to prove they own the source website. Whether this option will be rolled out to all page owners or not remains to be seen.
Read more about the update here.
Follow us on Twitter for news of these social media and content marketing changes as they happen.