Platform 5: This week's most important social media changes (edition 95)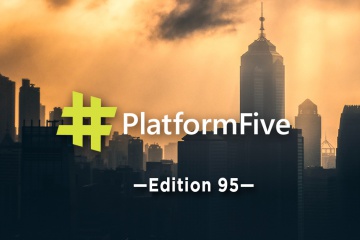 This week's 5 most important social media changes
What's changed in the last seven days? What does it mean?
Messenger Platform updates, Facebook Live integrates 4K 360-degree video, Instagram has new metrics, Twitter Notifications upgraded & LinkedIn photo albums.
Let's take a look at these changes in more detail.
Messenger Platform updates to version 2.1
Facebook continue on their path of monetising products with a major update to Messenger Platform. Users will now have access to a seamless process for payments inside the application, new call-to-action buttons (Shop Now, Get Support, Get Updates, Play Now & Get Started) and software-development kit extensions.
Read more about Messenger Platform 2.1 here.
Facebook Live integrates 4K and Gear VR with 360-degree video
Facebook's live streaming application has received upgrades by way of 4K video support for 360-degree content viewed with smart devices like VR headsets. Gear VR users will also now have live playback features. Content creators will soon have access to heatmap metrics reporting on where and when their video content received the most engagement.
Read more about Facebook Live updates here.
Access new metrics in the Instagram Platform API
New insights and metrics are now available to business accounts on Instagram following an update to the Platform API. Enhanced data will allow tighter tracking of organic content compared to third-party tools as well as new tools for comment moderation. The update is available to current partners and will roll out to all users soon.
Read more about Platform API here and here.
Twitter releases updates to the Notifications tab
The mobile and web versions of Twitter have upgraded the Notifications section to show users more of what people they follow are up to. Notifications will now include things like user follows, reminders, trending tweets and sharing links. Previously this info was only sent through push notifications but now these are all featured together in the one place.
Read more about Twitter's updates here.
Create multiple image posts on LinkedIn
LinkedIn continues their catch up game with other major social media platforms with the launch of multi-image posts. The new feature became available on iOS recently with desktop and Android to follow. This means users will now be able to upload multiple images in a single post allowing photo albums to be created and shared.
Read more about LinkedIn's update here.
Follow us on Twitter for news of these social media and content marketing changes as they happen.