Platform 5: This week's most important social media changes (edition 96)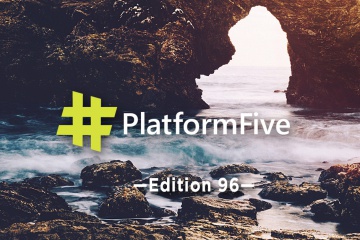 This week's 5 most important social media changes
What's changed in the last seven days? What does it mean?
Facebook Stories going public and launching on desktop, Giphy is monetising, Facebook is making a video chat device and changing rankings for slow websites.
Let's take a look at these changes in more detail.
Facebook Stories is coming to desktop
Facebook is testing Stories on the desktop version of their social media platform. Currently the feature, heavily styled on Snapchat, is only available on mobile apps sitting above the News Feed. On the desktop version it will be available from the right-hand column. Currently it's only in a testing stage and the rollout is expected soon.
Read more about Stories for desktop here.
Facebook to punish slower loading websites
Facebook will start to give precedence to websites that load faster, negatively impacted Pages with links that load slowly. The update will be gradually rolled out across the world, allowing link publishers to make necessary changes in preparation for the change. Slower loading sites may start to see lower referral traffic if they do not take action to make improvements.
Read more about Facebook's webpage ranking here.
Building 8 lab working on video chat service
Facebook's Building 8 lab is reportedly working on a video chat device for home users. The device features a laptop sized screen and may be announced at the next F8 developers conference. The device is currently under lockdown but is undergoing field tests. Facebook is also working on an in-home smart speaker to rival that of Amazon's Echo and Google Home.
Read more about Facebook hardware here.
Stories are going public
Stories will now have a public options after Facebook rolled out new changes to the image sharing feature. The new feature is only available to users that allow public followers, but the content can be viewed by anyone beyond their network. It's not yet known when the feature may be available on Pages and Facebook doesn't have a solid rollout timeframe yet.
Read more about public Facebook Stories here.
Giphy to monetise their image-serving platform
Giphy has announced they will start to monetise their image serving platform. They will begin testing sponsored GIFs in messaging services (think WhatsApp and friends). Users searching GIFs may be served sponsored content first, potentially ranked above the organic results similar to the top results on Google's Search Engine Results Page.
Read more about Giphy's monetisation here.
Follow us on Twitter for news of these social media and content marketing changes as they happen.