Platform 5: This week's most important social media changes (edition 97)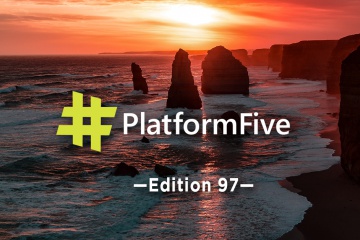 This week's 5 most important social media changes
What's changed in the last seven days? What does it mean?
Facebook launches Watch, YouTube updates Video Manager and app sharing, Google launches Snapchat competitor Stamp and livestream with friends on Instagram.
Let's take a look at these changes in more detail.
Facebook launches video discovery feature 'Watch'
Facebook looks to take on TV with Watch, a video-only discovery feature. US users will be some of the first to gain access to original programming on mobile desktop and the Facebook TV app. The feature will include recommendations based on viewing history, as well as popular content based on different engagement metrics.
Read more about Facebook's Watch here.
YouTube updates Video Manager options
YouTube announced a number of changes affecting how Video Manager displays which content is earning and added an option for creators to appeal those that aren't. The changes, rolling out over the coming weeks, come after many companies left the platform, fed up with their ads appearing on questionable content. One helpful feature, a traffic light system, will show advertisers which videos are eligible.
Read more about updates to YouTube here.
Google to launch Snapchat competitor 'Stamp'
Google may be about to launch a Snapchat competitor, reportedly called Stories for Google Accelerated Mobile Pages initiative (or Stamp for short). The app will function similar to the Discover section of Snapchat, showing content from a variety of sources in a magazine-style design. There's a possibility Stamp will start to appear in Google-related apps and platforms in the coming weeks.
Read more about Google Stamp here.
Shared livestreaming on Instagram
Instagram has created a new feature allowing users to stream live with friends of their choice. Think of it as similar to a skype call only during a live stream. Users can add friends to their stream while live and remove them just as easy. Shared streams can easily be added to stories or deleted just like standard streams.
Read more about updates to Instagram here.
Send videos from within the YouTube app
A new update to the YouTube app allows users to direct message videos to family and friends in private conversations without having to leave the app. Gone are the days of copying and pasting links and swapping between apps. Other features in the update include the ability to chat with both text and emoji, reply with videos and invite other users to group chats.
Read more about the update to YouTube's app here.
Follow us on Twitter for news of these social media and content marketing changes as they happen.