This week's most important social media changes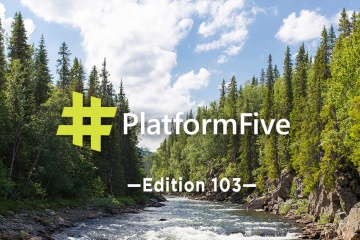 What's changed in the last seven days? What does it mean?
Find mutual followers, use live filters & switch from Facebook easily on Instagram, iOS11 updates to Pinterest and variable speed video on YouTube mobile.
Let's take a look at these changes in more detail.
Easily switch between Facebook and Instagram
Facebook is rolling out an update that makes switching from Facebook to Instagram much easier. A link to Instagram will appear in the app menu, and will eventually be available to all users soon. Users simply need to tap the icon and the Instagram app will open, removing the need to navigate to the home menu and into the the app.
Read more about Facebook's updates here.
Use live face filters on Instagram
A recent Instagram update has introduced the ability to use face filters during video streams in real time. There's a new set of different filters and face overlays to choose from, such as a set of sunglasses that can be tapped to show different landscapes in the reflection. Once ended, broadcasts can then be replayed to stories or deleted.
Read more about filters in livestreams here.
Pinterest iOS11 update brings suite of features
With the release of iOS 11, Pinterest is launching a mix of new features. Of particular note is the ability for iPad users to utilise a split-screen option with drag-and-drop shortcuts. With Pinterest to one side and Safari to the other, users will be able to drag and drop content to easily pin them. Pins can also be dragged to other apps like Messenger to share them.
Read more about iOS 11 updates to Pinterest here.
Discover mutual followers on Instagram
Instagram has made it easier to find out who is following you back by highlighting a section at the top of profiles. The recent update was rolled out for Android users and will eventually be part of an iOS update for all users. While only a relatively small change, it will be of huge benefit when scanning for mutual friends.
Read more about Instagram updates here.
Variable speeds come to mobile YouTube
While YouTube for desktop has had the ability to speed up or slow down video, the feature was yet to reach mobile apps. The latest update lets users access variable playback speed features on Android and iOS. Users will be able to adjust video content from a quarter of the speed to twice the original speed. Options are found within the overflow menu, then tap the three dots in the corner of the app.
Read more about YouTube updates for mobile devices here.
Follow us on Twitter for news of these social media and content marketing changes as they happen.