New tech news: GoPro Fusion and 360 video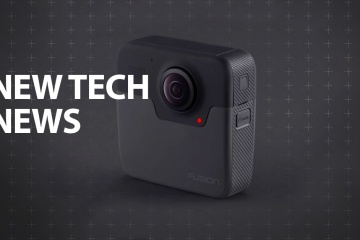 Every now and then something comes along with the potential to shift the landscape. In our first edition of New Tech News we dive into the growing use of 360 video and video production, along with the latest 360 video offering from market leader GoPro.
The state of 360 video
Across the industry, 360 has yet to be fully embraced by large audiences, despite the high positive sentiment it's received to date. This could be attributed to a number of things – capable hardware, slow internet speeds or even lack of interest. But, as the major players like Youtube, Facebook and Vimeo continue to develop support for 360 and VR videos, we'll likely start to see that change.
Until now the production of 360 video (particularly post-production), has been a complex and arduous task that demanded a lot of specialised equipment, software and know-how to be able to produce a quality final product. This started to change this year thanks to Samsung's redesigned Gear 360 camera and software (which does most of the hard work for you), Adobe's integration of 360 video editing directly into Premiere Pro CC and now the GoPro Fusion.
GoPro Fusion
Although there's already a number of consumer-focused 360 cameras on the market, the GoPro Fusion is a step above.
Why? Basically, it seamlessly fits within the existing GoPro infrastructure including mounts, gimbals, grips and software – instant appeal for those already operating within the GoPro world.
The camera boasts two lenses, gyroscopic image stabilisation (negating the need for a gimbal), GPS, accelerometer and a built-in compass. The results are incredibly smooth, and with the added benefit of being waterproof (up to a depth of 26'/5m) it continues GoPro's 'action cam' legacy.
One of the most interesting features, however, is what GoPro has dubbed 'OverCapture' – a term used for all of the footage captured by the camera that is 'behind you' when you are navigating around a 360 video.
The idea is to be able to shoot everything in 360, then choose your angles in post-production – meaning you'll never have to frame a shot ever again! The result is a 1080 video with extremely slick transitions, visually stunning effects (such as the 'tiny-planet' look) and far more flexibility than a single-lens camera will ever offer.
Although the capture of 1080 isn't a new concept, it's interesting to see GoPro featuring this and creating software geared towards using the potential of that 'unused' footage. The program geared towards this is called Fusion Studio and allows you to create some unique effects that haven't been possible in the past, as well as being able to colour grade and seamlessly (360 video pun intended) flick your footage through to Premiere and After Effects.
What does this mean for brands and filmmakers?
The biggest impact will be the almost certain influx of people stepping into the 360 video space and, like any new tech, this present the opportunity to get in on the ground floor with creative productions.
Other opportunities lie in creating something outside GoPro's intended use. We've seen numerous creative executions including commercials, short films, experimental films and even a couple of GoPros getting pretty close to being put in orbit! It's through these executions that GoPro has cemented itself as a major player in the filmmaking world – if 360 video and the GoPro Fusion are adopted in the same manner we're set to witness some special filmmaking in the years to come.
The GoPro Fusion will be available in Australia from November. Shop it here.
References and further GoPro reading: PetaPixel, The Verge, Wired
Image credit: Peta Pixel