The Best of 2017 in Technology, Content and Culture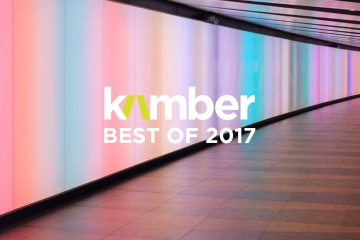 End of year means the inevitable flood of 'top', 'most' and 'best' lists, along with the obligatory predictions for what's to come next year.
Here at Kamber we've been keeping our eyes on the best of the best in technology, content and culture from Australia and around the world. Here's what's caught our attention – all conveniently curated in one place for your enjoyment.
Happy Holidays – bring on 2018!
Google's most searched 2017
The top trends data reveals that we're mostly asking Google 'how', seeking to make sense of the world around us. Sport was the single most searched topic in Australia.
The most shared Facebook content
The team at BuzzSumo supply a nice wrap up with insights broken down by sector. Not everyone can break the internet like some of the content featured, but there's important and valuable lessons for content marketers in here nonetheless.
Facebook Australia's most discussed topics
When planning and developing content it's always great to know what's resonating and what people are looking for. Facebook Australia's most discussed list for Australia in 2017 is a great insight into just that.
Twitter Australia's most discussed topics
Not to be outdone by Facebook, Twitter Australia also released its most discussed topics list… and there's some differences in there. Not to spoil it for you, but politics and marriage equality topped the list.
Apple's apps of the year
Chosen by App Store editors, this list crosses a heap of themes (from photography to mindfulness) and will definitely pique your curiosity. Give some of them a try over the festive season break!
100 Best Android Apps of the Year
Not an Apple user? We've got you covered – this top 100 from Digital Trends covers everything from productivity to news and sports.
Car of the Year
Never heard of a Skoda Kodiaq? You have now – and news.com.au's team of reviewers think it's pretty darn good.
Albums of the Year
The team at BBC's 6 Music has spoken – this is what your ears should feast on over the festive season. Enjoy!
TIME Person of the Year
Yes it's already been reported far and wide, but we love it. Here's to all the silence breakers.
Netflix's Most Binged Shows of the Year
Check how your bingeing compared to others and add to your 'must watch' list for the festive season.
Pantone's Colour of the Year
Pantone has spoken – Ultra Violet 18-3838 is where it's at in terms of colour for 2018. Get familiar with it – you'll be seeing A LOT more of it in the year ahead.
The New Yorker's Best Podcasts of 2017
It's been a great year for podcasting – feast your ears on these recommendations from The New Yorker.
Best books of 2017
The esteemed panel at The Guardian has put together a formidable list of reads featuring something for everyone.
Best memes of 2017
Who doesn't love a good meme? Here's 50 of the best courtesy of Thrillist.
Best new TV shows
Netflix ain't the only one serving up binge-worthy content – Paste Magazine has compiled its best 17 from across TV-land this year.