Social Media Algorithms: How Facebook decides what content you see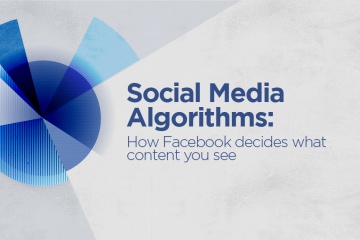 Our news feeds are a mix of posts from family, friends, our favourite sports teams, retailers, restaurants and news providers. What we see, however, is only a small selection of what our networks actually publish. So how do social media platforms prioritise the stories we see every day?
In a fortnightly series, we'll be looking into the algorithms used by social media platforms, like Facebook and Twitter, to determine what we read, watch and listen to. In part one of this series, we'll look at Facebook's Machine Learning Algorithm (MLA) and the factors it uses to filter information and serve us content.
–
In one day, a person has approximately 2000 possible news stories that could appear in their Facebook news feed, of which approximately only 200 will be seen. Facebook currently uses a Machine Learning Algorithm (MLA) which considers over 200 factors to decide which of these 2000 possibilities should be seen by users.
[bctt tweet="In one day, a person has approximately 2000 possible news stories that could appear in their Facebook news feed, of which approximately only 200 will be seen" username="Kamberco"]
Post scores
Facebook's algorithm works to determine an overall score for each post. Posts are ranked according to their overall score before being shown in user's news feed. The higher the score a post, video or image receives, the more likely it will appear in your news feed.
So how does Facebook analyse and score every post to determine what users should see?
MLA considers a range of factors that have been learned through user's previous actions to determine an outcome. These include how users use the platform (what type of posts they interact with, who they commonly interact with and why they use the platform) and information from websites/apps that use Facebook's analytics tool to determine the posts users would be most interested in. The algorithm begins to learn users' habits, interests, values and other traits for a more concise and reliable prediction of what users want to see.
To ensure your experience is 'meaningful'. Facebook's MLA will rank posts published by friends and family higher than those that are sponsored and irrelevant.
To avoid irrelevant posts, the MLA has been altered to avoid showing 'engagement bait' posts. Any post which encourages users to vote, react, share, tag and/or comment on the post will receive a lower ranking score.
Post ranking
When ranking posts, the algorithm considers four main components; inventory, signals, predictions and overall score.
The inventory refers to the thousands of possible posts that Facebook could display in users' news feeds at any given moment; however, not all of these will be relevant or significant to particular users. 'Signals' must be in place to refine this inventory into a ranking of the most important posts for each individual.
Facebook's algorithm defines 'signals' as factors that influence the overall significance score. These 'signals' can be influenced by developers internally coding parts of the algorithm and the algorithm's own ability to learn a user's habits and interests over time.
To further define the 'signals' that Facebook's MLA focuses on, the 'Facebook Journalism Project' webinar earlier this year outlined four key ranking signals. The four signals below have been designed to prioritise posts which will be 'meaningful':
• Interaction with a person's photo or status through comments and likes.
• Engagement with a publisher's post which has been shared by a friend.
• The average amount of time spent on the creation of content.
• Links being shared between friends over messenger.
Informed predictions are then made by the algorithm to decide on which posts users will find interesting by ranking the overall scores.
However, in the words of Facebook's Director of Analytics, Dan Zigmond, "the algorithm is never done."
Stay tuned for our Instagram algorithm article!