Social Media Algorithms: How Instagram decides what you see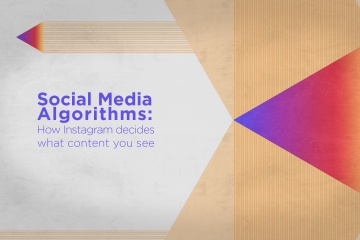 This is the second instalment of Kamber's fortnightly series on social media algorithms of social media platforms – you can read our Facebook instalment here.
–
The exact numbers are hard to pin down but wherever you look, Instagram's usage statistics are impressive…very impressive. According to Hootsuite, Instagram has more than 800 million active users and 500 million daily users. Instagrammers share an average of 95 million photos and videos every day and as of August 2017, at least 250 million users were using Instagram Stories.
So how does Instagram choose the right images and stories to fill your news feed from this enormous stream of information?
The platform was first launched in 2010, with the content in people's newsfeeds being displayed chronologically; the most recent post by the people you follow would appear at the top of the feed. Not long after Facebook Incorporation acquired the platform in 2012, developers decided to use a Machine-Learning Algorithm (MLA) which saw our feeds change to displaying posts in terms of relevance rather than recency.
An MLA works to determine what content you'd want to see by tracking your regular actions when using Instagram. The algorithm learns who you interact with regularly, what type of posts draw your interest, and how you use the platform. Information that the MLA determines about a post (eg. topic, location, or recency) is then analysed against what the algorithm has learnt about your interests.
Developers' Top 5 Factors
Within the MLA, developers can program the system to focus on particular factors. There are hundreds of these factors which are continually being modified, changed and adapted to fall in line with Instagram's aims. These factors are usually more heavily weighted than others when determining your post's ranking score. With so many factors affecting what content you see, the most important ones you need to be aware of are:
Relationships – The MLA looks at your relationship with other users and creates a ranking score based on how, and how frequently, you interact with them. The stronger your relationship is with someone, the more likely it is that you will see their posts first. This ranking and strength level is unique to each user; therefore, you and your friend may not have the same friendship strength rating.
Timing – Instagram still aims to show the most current content in feeds. If you post content when your followers are most active it likely that your post will be ranked higher in more users' profiles.
Likes and comments – Like most platforms, the more interaction a post has the more likely it is going to appear on more feeds. Instagram sees posts with higher interaction levels as a post that is appealing to a wider demographic, therefore, it will be ranked higher than most posts.
Direct shares – Sharing a post directly to a friend's inbox is a very heavily weighted factor. Not only does this impact your relationship rankings, but it also indicates to the MLA what posts you and your friend are interested in. The algorithm will then learn that it should be showing you more posts from your friend, but it will also learn to show you more posts like the one you shared.
Profile Searches – When you search for a person's profile this indicates to the MLA that you are interested in this user's content. The algorithm then chooses to rank that user's posts higher to prevent you from having to search for their posts in the future.
[bctt tweet="Relationships, timing, likes and comments, direct shares, and profile searches all affect what Instagram displays in your newsfeed. #socialmedia" username="Kamberco"]
What Happens When You Share an Image or Video?
With all this happening in the background of Instagram, what actually happens when you post an image or video?
In the first 60 seconds, after you hit 'share' on your Instagram post, only 10% of your audience will see it. This first minute mostly determines how well your post will perform. The more comments and likes that your post receives in this minute will then be combined with the engagement levels of posts you have previously posted around the same day of the week and time. After the MLA has combined this data, if the result is positive, the algorithm will show the post to a wider audience and rank it higher in your feed.
Instagram is also set to add a 'You're All Caught Up' notification to the platform after developers realised the toll that the algorithm is having on young users' mental health. Research has shown that the algorithm is causing young teens to experience a sense of anxiety in the fear of missing out on friend's posts. This feature is set to be added in the coming months.
Stay tuned for the next instalment in a fortnight.
[/et_pb_text][et_pb_social_media_follow _builder_version="3.0.106″ url_new_window="off" follow_button="off" background_layout="light"][et_pb_social_media_follow_network _builder_version="3.0.106″ social_network="facebook" skype_action="call" url="https://www.facebook.com/KamberCo/" background_color="#3b5998″ use_background_color_gradient="off" background_color_gradient_start="#2b87da" background_color_gradient_end="#29c4a9″ background_color_gradient_type="linear" background_color_gradient_direction="180deg" background_color_gradient_direction_radial="center" background_color_gradient_start_position="0%" background_color_gradient_end_position="100%" background_color_gradient_overlays_image="off" parallax="off" parallax_method="on" background_size="cover" background_position="center" background_repeat="no-repeat" background_blend="normal" allow_player_pause="off" background_video_pause_outside_viewport="on" box_shadow_style="none"] Facebook [/et_pb_social_media_follow_network][et_pb_social_media_follow_network _builder_version="3.0.106″ social_network="twitter" skype_action="call" url="https://twitter.com/KamberCo?lang=en" background_color="#00aced" use_background_color_gradient="off" background_color_gradient_start="#2b87da" background_color_gradient_end="#29c4a9″ background_color_gradient_type="linear" background_color_gradient_direction="180deg" background_color_gradient_direction_radial="center" background_color_gradient_start_position="0%" background_color_gradient_end_position="100%" background_color_gradient_overlays_image="off" parallax="off" parallax_method="on" background_size="cover" background_position="center" background_repeat="no-repeat" background_blend="normal" allow_player_pause="off" background_video_pause_outside_viewport="on" box_shadow_style="none"] Twitter [/et_pb_social_media_follow_network][et_pb_social_media_follow_network _builder_version="3.0.106″ social_network="linkedin" skype_action="call" url="https://www.linkedin.com/company/kamber/" background_color="#007bb6″ use_background_color_gradient="off" background_color_gradient_start="#2b87da" background_color_gradient_end="#29c4a9″ background_color_gradient_type="linear" background_color_gradient_direction="180deg" background_color_gradient_direction_radial="center" background_color_gradient_start_position="0%" background_color_gradient_end_position="100%" background_color_gradient_overlays_image="off" parallax="off" parallax_method="on" background_size="cover" background_position="center" background_repeat="no-repeat" background_blend="normal" allow_player_pause="off" background_video_pause_outside_viewport="on" box_shadow_style="none"] LinkedIn [/et_pb_social_media_follow_network][/et_pb_social_media_follow][/et_pb_column][/et_pb_row][/et_pb_section]