In this week's Platform Five: Reels is finally here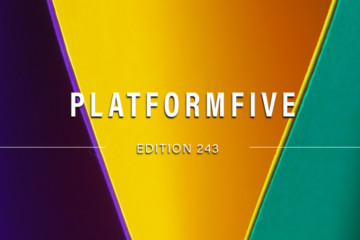 What's changed in the last seven days? What does it mean?
Instagram rolls out Reels globally, Facebook launches a new program to support black creators and YouTube publishes new data on COVID-19 trends.
Let's take a look at these changes in more detail.
Instagram Reels is finally here
Instagram's response to TikTok, Reels, is finally here. This week they began the global rollout after a year of testing in Brazil, France and Germany. Reels lets you record and edit 15-second clips with audio, effects and music. The difference between Reels and TikTok? Reels is built in the Instagram App so users can share the videos with their existing followers.
Read more here.
Facebook launches new program to support black creators
Facebook has launched a new $25 million program to support black creators as part of its ongoing effort to support diversity and inclusion. The program will be open to creators aged 18+ with a minimum of 10,000 followers on either Facebook or Instagram. From Facebook, "by participating in this initiative, creators will receive the support they need to help them propel their careers to the next level, grow their community of followers and build a business across Facebook Inc's family of apps."
Learn more here.
Snapchat is working on adding music to your Snaps
Snapchat is working on a new way to share music in your Snaps. This seems like a bit of a nod to TikTok but Snapchat has been working on music deals for the last 18 months. The new feature will enable users to add music to their Snaps both pre and post-capture which could facilitate lipsyncing and dance clips similar to those that are popular on TikTok.
Find out more here.
YouTube publishes new data on COVID-19 trends
YouTube has published new insights into topic trends that have come about during COVID-19 based on searches and behaviour across the world. The report notes that similar trends were reflected in all regions, "the global pandemic is not over. But, its shocking onset allowed us to see an astonishing uniformity in content trends around the world. That uniformity helped demonstrate the reality of our shared needs: to experience a sense of connection, feel as good as possible, and project a strong sense of self."
Read the report here.
Twitter surveys users on possible subscription options
After posting a job ad for a role specifically focused on building a subscription platform last month, Twitter has confirmed that they are indeed working on potentials subscription options. Users have reported being asked about a range of potential options that they would be willing to pay for. Some of the options include profile badges, social listening, job ads and auto-replies.
Learn more here.