In this week's Platform Five: Podcasts aren't just for listening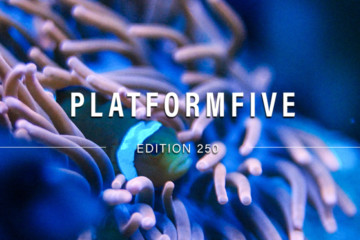 What's changed in the last seven days? What does it mean?
LinkedIn launches a brand new look, Facebook removes the 20% text rule and Spotify introduces interactive podcast polls.
Let's take a look at these changes in more detail.
LinkedIn launches a new look
LinkedIn has given its platform a fresh new look. The design isn't too dissimilar to the approach Facebook has taken with their latest refresh focusing on a cleaner and brighter layout. As explained by LinkedIn, "we're bringing the next chapter of [our] brand evolution to life across our platform with an entirely new look and feel that embodies our diverse, inclusive, warm and welcoming community."
Find out more here.
Facebook is removing its 20% text restriction on Ad images
The 20% text rule has long posed a challenge for advertisers. But the rule looks to be no more, social media expert Matt Navarra took to Twitter to share an update from Facebook explaining that advertisers will no longer be penalised for having higher amounts of text in images.
BIG news for Facebook advertisers:

Facebook is killing its '<20% text in image' rule for ads

Source: Facebook pic.twitter.com/nP18BSLP7L

— Matt Navarra (@MattNavarra) September 22, 2020
Learn more here.
Pinterest introduces Story Pins
Pinterest announced a suite of updates for creators this week. The updates include Story Pins which are currently in beta. Story Pins are a new publishing option that lets creators turn their ideas into dynamic stories with text, voiceovers and image overlays. Unlike Stories on other platforms, they don't disappear after 24 hours.
Read more here.
Podcasts aren't just for listening: Spotify introduces interactive polls
Spotify is testing a new interactive feature – polls. Much like Instagram, hosts will be able to ask a question and see the results in real-time and participants will only be able to see the results if they vote. Polls are being tested on both iOS and Android.
Find out more here.
Reddit launches Ad Inventory types to give advertisers more control
Reddit has had past controversies which have left advertisers hesitant to invest in the platform. But Reddit is working to give advertisers more control over their ads by introducing Ad Inventory types. As explained by Reddit, "Inventory Types recognizes that no two advertisers are the same, and provides greater choice to meet these unique needs across three different tiers."  The three tiers are Expanded, Standard and Limited.
Learn more here.